Best AEW Dynamite Matches of 2022 (So Far)
Best AEW Dynamite Matches of 2022
There are many reasons why Dynamite is considered to be such a strong show: it's a well-paced 2-hour weekly wrestling show; stories are always developed before being patiently resolved in some way; and at the end of the day, the wrestling and the stories themselves are mostly rewarding and varied. Plus, given the quarterly pay-per-view calendar, there is all the more reason to watch Dynamite weekly, with the promise of seeing good pro wrestling unfold all year round. Here are some of the best that AEW's flagship product put on in the year 2022 (so far)!
January
Adam Page (c) v Bryan Danielson
AEW World Championship
In the match to kick-off Dynamite's move from TNT to TBS, "Hangman" Adam Page would defend the World Championship against Bryan Danielson, in a rematch from their hour-long time-limit draw the previous month. The match started off rather slow and lopsided in favor of Page, who always seemed to be one step ahead of Danielson's short-sighted counters. But as soon as Danielson had the chance to use Page's own momentum sending the latter face-first into the steel steps, and the blood came pouring of "Hangman," Danielson's sense of urgency came kicking in, forcing Page to do the same — and this match couldn't be stopped.
This was a near 30-minute display of two heavy strikers throwing headbutts and haymakers when the powerslams and the triangles didn't work. This was by far Adam Page's best World Championship defense, against the opponent that pushed him the hardest by a country mile.
February
MJF v CM Punk
Before the rivalry got kicked into high gear when MJF decided to open up about his experiences being bullied as an adolescent, and looking up to the unabashed CM Punk for inspiration, MJF versus CM Punk was simply about MJF wanting to prove that he is better than the best in the world: "better than Piper in Portland, better than Bret in Canada, and better than CM Punk in Chicago."
MJF made Punk play the MJF game, forcing him to wrestle members of the Pinnacle, and treating his childhood hero like he did everyone else; all in an effort to let "PG Punk" know that he's not the same wrestler he once was. Then, in one of the longest and most thrilling one-on-one matches on Dynamite—and in Chicago—MJF destroyed Punk with a dubious sleeper hold and a loaded punch to the skull. Say what we might about dubious match endings, but these two wrestled a fine and well-paced match, then MJF defeated Punk, in Punk's hometown, twice, in one night.
March
Britt Baker (c) v Thunder Rosa
Steel Cage, AEW Women's World Championship
The Britt Baker-Thunder Rosa series is one of AEW's most successful women's rivalries; so after all the redundant outside chicanery involving Baker, including her World Championship defense against Rosa at Revolution; this Steel Cage match 2 weeks later had no choice but to deliver.
And did it ever.
It seems Baker and Rosa specialize in anything-goes warfare, and this match was captivating because of it. In a 1-year-in-the-making rematch of their pandemic classic, the first-ever Lights Out match on Dynamite, Baker and Rosa again partook in a gnarly brawl and called unto all their favorites — the mounds of steel chairs, the thumbtacks, and (who could forget) the worst of them all, the dentist's glove. With the two women relying on only their grit inside the cage, Baker and Rosa had one of the most cathartic Women's World Championship matches, in the most fitting way to close out this chapter of their rivalry.
April
FTR (c, c) v Young Bucks
AAA and ROH World Tag Team Championship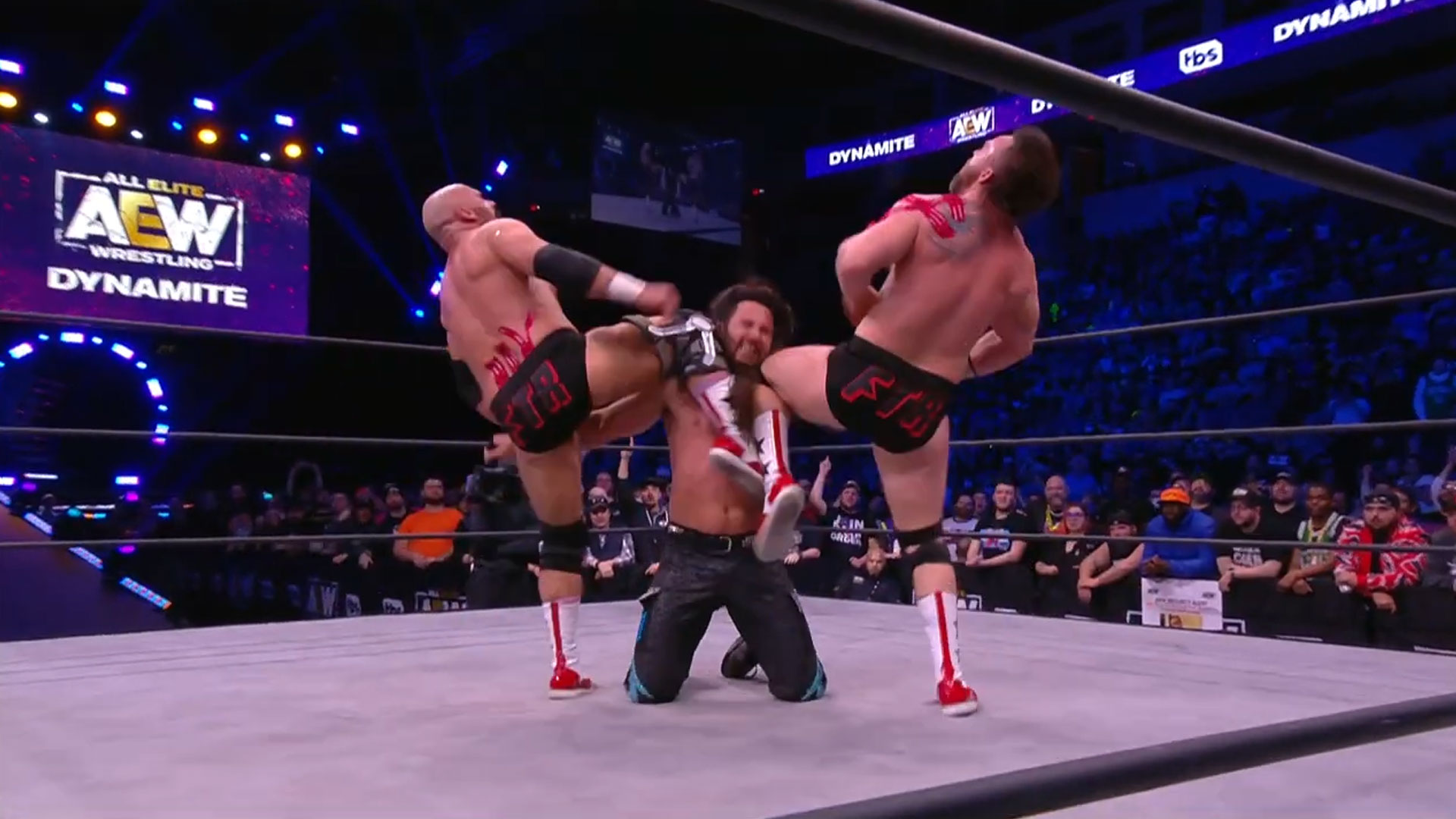 It seems as though the bar to determine whether or not a tag team is among the best in the world is if they produce the best matches with the Young Bucks. In that sense, FTR sure are up there above most of the past World Tag Team Champions.
FTR are really interesting when they're not taking shortcuts, being the naturally slower-paced team and much of their offense being punches, brainbusters, and DDTs. As much as we give credit to CM Punk and the Briscoes for encouraging a side of FTR that is committed to honorable pro wrestling, we also have to give a lot of credit to the Young Bucks, who not only wrestle a style opposite to FTR, but approach pro wrestling in general with a lot of sarcasm.
Matches like FTR's defense the Young Bucks for the AAA and ROH World Tag Team Championship make a tag division world class. Putting it in the main event of Dynamite is an even bigger statement that this is not just a division relegated to being match number 2 on a 9-match card. It is the cornerstone of AEW.
Minoru Suzuki (c) v Samoa Joe
ROH World Television Championship
What more do we need to know from Minoru Suzuki versus Samoa Joe? That both men will imprint their hands on their opponent's chest in a chop and strike exchanges? That Suzuki will play the role of the smaller, perhaps even underdog wrestler? (Not that it matters too much when both are submission experts and throw big bombs for their finisher.) That at the end of the match, either the newly-crowned champion Suzuki or the debuting Joe, will leave as ROH World Television Champion? And will likely return to have more matches just like this?
Dynamite thrives on its consistency and surprises like these that drop straightforwardly, or largely unannounced. Matches like these don't need to destroy expectations, and certainly don't need too much build-up. Sold.
May
Kyle O'Reilly v Rey Fenix
Owen Hart Foundation Tournament
The inaugural Owen Hart Foundation Tournament may not have produced too many standout matches especially in the late game, but Kyle O'Reilly versus Rey Fenix in the 1st round ranks at the top of its best matches.
In many ways, O'Reilly and Fenix were the perfect opponents for each other. O'Reilly had been a largely underrated technical savant, while Fenix had been an established black belt luchador, which already makes for a great clash of styles. But Fenix was also coming off of an arm injury, and after (effortlessly) getting his aerial reps in against Dante Martin in his return singles match in the tournament, perhaps Fenix needed to cover his technical bases against someone as adept as O'Reilly; while O'Reilly needed to defeat Fenix to firmly establish himself in the upper echelon.
Each man's counters, bursts of offense, and even their exhaustion fit each other's game-plan like a puzzle, and Kyle O'Reilly advancing was the piece he needed to have a breakout month in AEW.
June
Jon Moxley v Daniel Garcia
Only 3 days after the beautiful violence of the Anarchy in the Arena match, and a little over an hour after MJF held the pro wrestling world hostage with a verbal tirade, Jon Moxley and Daniel Garcia put on a low-key hellacious singles match in the main event of Dynamite.
This match is the rough equivalent of how Moxley might have fought Wheeler Yuta, if Yuta had been a no good shortcut-taker, rather than someone who valued the respect of William Regal and the Blackpool Combat Club's brand of dirty technical wrestling. When Moxley beat and bloodied Yuta on Rampage 2 months prior to this match, it showed Yuta's gutsiness and experience beyond his years. But when Garcia bloodied Moxley in this match, it was because the latter was wrestling with stitches in his head that won't have healed in 3 days. So Moxley needed to fight the vicious, opportunistic prodigy of the Jericho Appreciation Society with malice of his own (at one point, delivering a nasty x-plex to Garcia onto the steel steps), and by the end, the two had put on a great match that will likely be a sleeper hit in Moxley's momentous run of 2022.
Roppongi Vice and Orange Cassidy v United Empire
The AEW audience would get a taste of one of NJPW's top stars in singles action when Will Ospreay faced Dax Harwood. But what that match lacked in stakes and unpredictability, it would not hold true for this trios bout.
This was Orange Cassidy's first match back since his injury at Revolution earlier this year; and if that wasn't a big enough deal, this would also serve as a sample of Forbidden Door's anticipated Ospreay v Cassidy title match.
Add this to the growing list of bangers the Best Friends/Chaos super-faction had been unleashing in 2022 (including matches against Young Bucks, FTR, and even the One in a Billion trio). The styles of the UE representatives Ospreay and Aussie Open fit right in in AEW, from their combined versatility in the ring, to the smugness that doesn't need 1 second of mic time to get across, and what resulted was a fun match that elevated multiple names.
July
Young Bucks (c) v Swerve In Our Glory v Team Taz
AEW World Tag Team Championship
Heading into it, this was supposed to be a fun, high-speed car wreck TV title match between 3 top tag teams, perhaps to give the champions an impressive defense before facing certain top guys at All Out. But coming out of it, this may have been AEW's best tag team match all year so far.
As Don Callis like to say on commentary, there's no need to worry about a Young Bucks match in the first 10-15 minutes; but as the match did progress, that worry and all those notions about a pay-per-view 2 months away all started to dissipate. Starks and Hobbs have had their backers since their first title shot at Double or Nothing earlier this year, with significant portion of fans sharing sentiments about how it was either about time or a long time coming for the duo. Team Taz's near-falls hit extra hard because of this strong wave of support. But nothing hit harder than the ending, when not only did the Bucks lose their 1st defense, but Keith Lee and Swerve Strickland swerved us all.
Jon Moxley v Konosuke Takeshita
Jon Moxley's matches are usually dirtier, and rougher around the edges than other top stars. It's not a dig. A lot of fans seem to really appreciate Moxley's ring style if his consistent, unrelenting wave of crowd support week-to-week wasn't evidence enough. However, one can probably also appreciate a good deviation from a successful formula, and that is exactly what Konosuke Takeshita brought to the table of the Interim World Champion.
Takeshita took the intensity to Moxley, as well as a sense of refinement in his techniques and strikes, which forced the champion to adapt and even match Takeshita's energy, so to speak. Overall, this is definitely one of Moxley's smoother matches, and of the best showings for the "Ace of DDT" in his first AEW stint.
Wardlow (c) v Orange Cassidy
TNT Championship
Three positives came out of this match. The first being that we finally got Orange Cassidy in a title match again, a well-deserved and earned feat for the returning star. The second is that the Best Friends reminded us once more of their murderous instincts, which we had previously witnessed in the Parking Lot Fight (2020) and Arcade Anarchy (2021).
The third is that Wardlow got to show more layers to his character — and I don't mean "character" like he's not a real person, but rather the way he handles his business in general, against wrestlers who are cool with him, or how he treats people in un-hostile environments. The in-ring action here showed us a Wardlow that doesn't wrestle bloodthirstily, with both Wardlow and OC really putting in work to land that one good shot on their evasive opponent to score the pinfall. And ain't that refreshing?
Daniel Garcia v Bryan Danielson
Though their 2-out-of-3 falls rematch the following month would be given more room to breathe on a dragon-themed episode of Dynamite, this first encounter between Daniel Garcia and Bryan Danielson packed a tighter punch from beginning to end.
This was Danielson's first match back since injury post-Double or Nothing this year. But beyond that, this was also a match between 2 of the most prominent technical wrestlers on the roster, and though Garcia may have looked up to Danielson growing up, Garcia now brands himself a "sports-entertainer," under the guidance of Chris Jericho.
In-ring wise, it is always welcome to see a fresh, more minimalistic Danielson at work. His strikes and high-impact movements feel especially different when he is deliberately holds back. Garcia in turn capitalized on all the worrying openings his jarred opponent gave up. This match was astonishing and won't let you look away out of concern, and not many people probably expected it to end the way it did.
August
CM Punk (c) v Jon Moxley (c)
AEW World Championship Unification
I don't know about biggest Dynamite match in history, but it was certainly the most satisfying.
Isn't it so cathartic to see someone get pummeled after they so righteously talk so much smack? Of course, all the respect in the world to CM Punk for very effectively selling this fight on one week's notice, and for stepping up so soon after his foot surgery. But sheesh, if he wants us to boo so bad, maybe we should just give it to him? Instead of encouraging him to do whatever he wants?
I'd hardly call the "interim champion experiment" a failure after 1 major instance of it, but this 5-day or 19-day or 3-month reign for Punk will certainly be the face of that for a while.