Best AEW Moments of 2022 (So Far)
Let's look back at the best AEW moments of 2022!
While the strength of AEW draws largely from its world-class roster, long-term stories, and exciting pro wrestling, much of its identity also comes from the talent using their own voices to tell their stories. From deranged tirades to magical returns, to the little things in between, let's take a look at the best moments outside of the opening and closing bells to take place on weekly TV all year round.
January
Cody Rhodes' Exit Promo
Due to the ambiguous nature of Cody Rhodes' arc in AEW, it was always difficult to tell what his next move would be, or how it was supposed to be "interpreted." Does he want us to boo? Does he want to want us to boo? Is he even listening at all? Ahead of his TNT Championship defense against Sammy Guevara in a Ladder match, few people expected that this impassioned speech on Dynamite would be his last in the promotion he helped create.
And what a way to go out. Rhodes embraced his ego and industry-altering accomplishments, amid the backdrop of a ladder that he would not reference or climb until the very last minute. Rhodes talked about how everything CM Punk talked about doing 11 years earlier—working with the biggest promotions, changing the wrestling world—Rhodes actually did; and how the future of AEW was built with his foundation, all as the crowd ping-pongs between cheering and chanting for him to shut up. This is a promo with tons of re-watchability, given the greater context.
Jon Moxley's Emotional Return
In a moment that will be far more real than anything on this list, Jon Moxley returned to AEW television after announcing in late 2021 that he had entered himself into an alcohol treatment program. As one of the most beloved figures in the industry today, just his entrance and rejuvenated presence back on this Dynamite was enough of a moment on its own for fans to soak in.
Then, Moxley headed to the ring and talked about how there is no shame in getting help when you need it, and that it is, in fact, the bravest thing that you can do for yourself. Moxley would punctuate this heartfelt return by declaring that, now, all he drinks is blood.
We love you, Mox.
February
MJF's Tell-All
It doesn't matter nearly as much that the follow-up is that MJF called himself the devil, and that the greatest thing the devil did was to convince the world he doesn't exist. The biggest takeaway from MJF's tell-all on Dynamite, where he talked openly about being a victim of bullying and discrimination in high school, due in part to his Jewish heritage; and on top of that, the impact that his childhood hero CM Punk retiring out of nowhere had on him at the time; is that everything he said about what he had felt was genuine.
Gaslighting and bigger picture aside of MJF getting Punk's guard down, ahead of their Dog Collar match), this was MJF the toxic human being, being uncharacteristically vulnerable and open in communicating his hurt, and saying things of greater substance than he ever had up to that point. It is the biggest testament to his skill that when the smoke cleared, he wasn't some big hero, or some liar faking abuse for clout — he simply left everyone feeling uneasy.
March
Max Caster's rap on a debuting Samoa Joe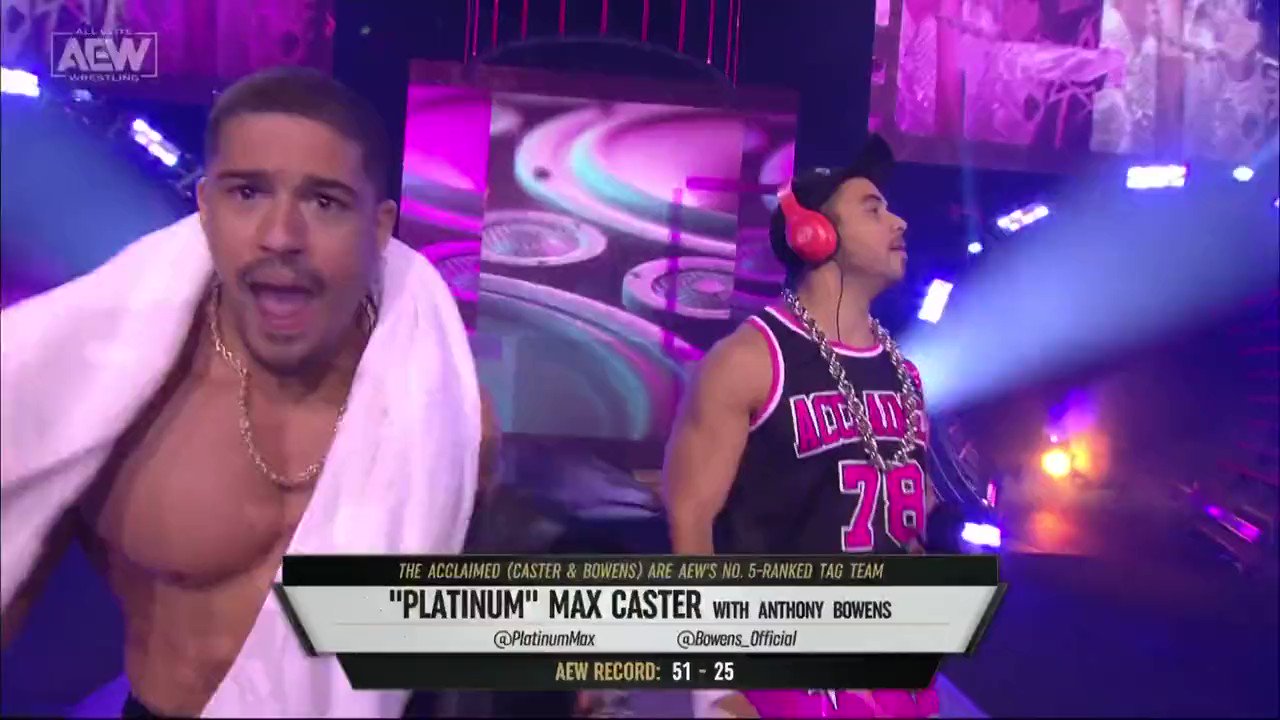 Every entrance by The Acclaimed's Max Caster and Anthony Bowen is a guaranteed show-stealer regardless of which show they are on, but in the top tier of these intro raps would have to be the one dropped on a debuting Samoa Joe. It being Joe's AEW debut in an Owen Hart Tournament Qualifier, one would think that he would've had an uncontested ovation, but the beat dropped and The Acclaimed went ahead and contested it.
"Imma lay this dude down like a sex position,
I'm Main Event Max, he's X-Division.
So I'm sending you home.
You're not a tough guy, Joe; you're just injury prone."
Yo. Yo.
April
Jon Moxley: "It is not my job to show you respect"
Prior to the Match of the Year contender that was Jon Moxley v Wheeler Yuta on Rampage, the two competitors cut underrated pre-match Promos of the Year with Mark Henry ahead of the main event. New ROH Pure Champion Yuta brought up the fact that he had come closer and closer to beating Moxley every chance he had gotten, and that Moxley was facing a different man who wasn't scared of this match.
Moxley's response was terse and straightforward, and set the stage perfectly for the star-making bloodbath that was to come:
"Let's be very, very clear. It is not my job to show you respect.
Tonight, I have one job: spill your guts all over the mat, so we can find out exactly, finally, once-and-for-all, what you are really made of."
June
MJF: "You f****** mark"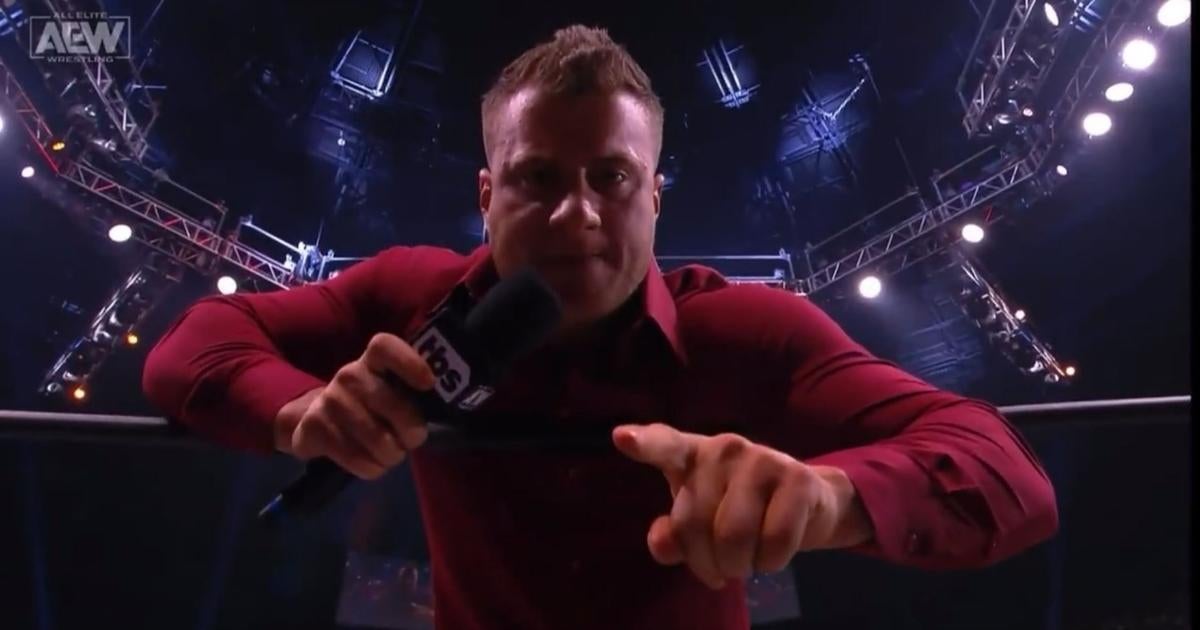 The delivery and set-up of this promo are unlike any other. First, the set-up. MJF had not been shy to drop references on TV about his contract expiring in 2024, leading fans to speculate on and buy into countless rumors of his discontent and uncertain future with the promotion—a story looming ironically in the background of MJF's rivalry with his defiant employee, Wardlow. So, in a sense, this promo didn't come out of anywhere.
Now, the delivery. After being powerbombed to oblivion by Wardlow 3 days prior at Double or Nothing, and speculation on MJF's unhappiness at an all-time high, the AEW original delivered the second promo of his life in 2022, with a pointed and targeted slandering of both Tony Khan, as well as the fans who MJF felt kept taking him for granted.
They could cheer all they want. "Too little, too late."
Orange Cassidy Returns
Amid the buzz of the biggest cross-promotional supershow of the year; full of moments like Jon Moxley finally coming face-to-face with Hiroshi Tanahashi, and newly-minted IWGP World Heavyweight Champion, Jay White confronting both his vocal challengers, Adam Page and Adam Cole, all taking place on the same episode; the loudest ovation would arguably come from the return of "Freshly Squeezed" Orange Cassidy.
Weeks prior, NJPW's United Empire (Will Ospreay, Jeff Cobb, The Great O'Khan, and Aussie Open) walked through the "forbidden door" and made enemies out of FTR and Roppongi Vice. Then, the big equalizer showed up. After 3 months of recovering from a shoulder injury, the Pixies' "Where Is My Mind?" hit on Dynamite, and Orange Cassidy comes walking in and stares down the leader of the United Empire and IWGP US Heavyweight Champion, Ospreay, setting up a match at Forbidden Door in 1 electric minute.
Christian Cage: "Your father is dead"
Out of nowhere, Christian Cage went from being Jurassic Express' veteran manager to the biggest talk in AEW with this 1 segment.
A week after making a sandwich out of Jungle Boy's head and 2 steel chairs, Cage would unleash one of the coldest tirades onto Jungle Boy and his family, as well as toxic fans on Twitter while he's at it. Something about the way he tried to justify his actions by saying he was only biding his time for a year and decided to make easy money by mentoring Jungle Boy first. And Cage dancing around the topic of Luke Perry, and then going there anyway. And the way Cage managed to get an irate Luchasaurus on his side with a few whispers. And Cage doing all that with a turtleneck. So many things about this made it seem like the single most cold-blooded talk segment in AEW history.
July
Hook wins FTW Championship
In a moment kind of foreshadowed by FTW Champion Ricky Starks engaging in double open challenges, then quickly pinning Danhausen, Hook would come out and challenge for the title that his father created. The association between Hook and Danhausen still holds strong despite only teaming for 1 Buy-In match, but that extra bit of anticipation without confirmation helped make this moment even better.
While Starks did have 2 matches the night he lost the FTW title, he ultimately proved he was not immune to his fellow Team Taz member's minute-long squashes, tapping out to Hook, as Hook's father Taz is overcome with emotion at commentary. There are so many big and small pieces that came together for this quick win, which will likely be a career-building moment for the new champion.
Powerhouse Hobbs attacks Ricky Starks (Team Taz implodes)
Immediately after his loss of the FTW title to fellow Team Taz faction-mate Hook, Ricky Starks would bare it all on the mic as his most vulnerable self. He talked about how okay he was with losing the FTW title because of how proud he was of his year-long title reign. Then, he talked about how tired he was of being patient and said he had big plans for himself and Powerhouse Hobbs — which promptly signaled to the 270-pound monster to swing full force at Starks' neck.
All of this while we had just recovered from Hook winning the title that his dad created in 1998. And all of this while we had just been enticed by what a re-focused Team Taz might look like. Damn it, Hobbs; it looks like nothing at all.
August
CM Punk and Jon Moxley: "Tell me when I'm telling lies"
A week after World Champion CM Punk finally returned to TV after suffering a foot injury 2 months prior, Punk would inexplicably go on a tirade aimed at Adam Page, Jon Moxley, and Eddie Kingston; about how none of them are as important as we perceive them to be. They are the second-best this, the third-best that. I want to say inexplicably, but this is Punk we're dealing with.
Interim World Champion Moxley then arrived and (deservedly) called the returning champion out on writing cheques his body can't cash. Moxley's relative calmness as he spoke communicated real confidence against Punk; but once the brawl broke loose, who's fresh and who's injured go out the window. All you wanted to see was an official match.
Kenny Omega Returns
On the one hand, returns in wrestling commonly want that maximum pop of noise all in one go. That's why many returns have the surprise element, or why a lot of entrance music has quirky intro hooks. On the other hand, we have AEW, which has advertised many returns and debuts without explicitly advertising anything.
I like having both hands, but on this night, they went with the latter for the much-awaited return of Kenny Omega, who had been gone from TV since losing the World title in November 2021. The story is that the Young Bucks had been searching for a partner for the World Trios Championship tournament, and their longtime friends Adam Cole, Bobby Fish, and Kyle O'Reilly took themselves out of the pool from the get-go by attacking the Bucks. Then, friend-turned-foe-turned-acquaintance Adam Page took himself out of the pool after the Bucks asked nicely. Then, the Bucks took Being The Elite editor Brandon Cutler out of the equation, ensuring all but one outcome come tournament time.
Omega's music doesn't have a quirky intro unless Justin Roberts' special multi-paragraph introductions count. In which case, the live crowd absolutely ate this return up from beginning to end. This wasn't just some singular burst of noise. This was a gradually growing "Oh my God" as Roberts confirmed the credentials that belonged to one man and one man alone — the only outcome.