Best AEW PPV Matches of 2022
Best AEW Matches of 2022 (PPV Edition)
Ever since full-capacity crowds returned in 2021, AEW has produced multiple home runs with their pay-per-view events. But with Dynamite and Rampage also producing terrific television matches on the regular, how do the best of the pay-per-views fair in comparison? Here's a look at AEW's best PPV matches of 2022.
AEW Revolution
House of Black v Penta Oscuro, Pac, and Erick Redbeard
A night of great undercard rivalries began at the Revolution Buy-In with a great trios match between House of Black and Penta Oscuro, Pac, and Erick Redbeard. Stepping into the Rey Fenix's spot—who had suffered a nasty arm injury 2 months prior—is the giant Erick Redbeard, whose presence in the match alters the dynamic in both speed-reliant teams.
Initial one-on-one pairings saw Malakai Black exchanging kicks with Pac from the opening bell; Buddy Matthews and Penta Oscuro trying to read each others' next dive, and the two big men Brody King and Redbeard attempting to knock each other down. As the match continues on and moves come flying in from different permutations of the two teams, the energy and athleticism of all men involved become something to marvel at. In the end, House of Black would surround Redbeard and hit him with a trifecta of death — a spinning heel kick, black mist, and Gonzo Bomb to get the win in one of the strongest buy-in matches to date.
Chris Jericho v Eddie Kingston
Chris Jericho's beef with Eddie Kingston leading up to Revolution was an interesting one. In so many words, Jericho wanted to motivate Kingston by telling him that what he thinks of Kingston is deep down what Kingston also thinks of himself—that he can't win big matches because he's terrified of success. It's interesting, because, though Kingston doesn't seem to deny it, he also makes it clear he doesn't care about Jericho that much. Kingston isn't here for lengthy, talky sports-entertainment segments; he is here to release aggression by fighting; but before that match is confirmed to happen, he tries to motivate Jericho back: "Let me get the Chris Jericho that got the respect from one of my heroes, Tenryu[…] 'Cause if you don't, I'm gonna eat you alive."
And the match that we got at Revolution would be the best singles match either has had in their AEW career thus far. Kingston's AJPW influence was strong in this match, delivering high-angle suplexes and blistering, rapid-fire chops to Jericho, who fought Kingston off quickly and showed no backdown in brawling with him. The little pep talk segment must've done something because the Jericho and Kingston that showed up here were singularly focused on putting on a wrestling classic that drew inspiration from their heroes. And though their personalities wouldn't produce the smoothest chemistry on promos, this show-stealing opening bout showed that, at this stage of their careers, these men bring out the best in each other.
MJF v CM Punk (Dog Collar)
Perhaps no other match in the entire event would be more highly-anticipated than the Dog Collar match between MJF and, the man with the best bloody face in wrestling today, CM Punk.
Leading into Revolution, MJF had already picked up a win (in fact, 2 falls in the same match) against Punk on Dynamite in no less than Punk's hometown of Chicago. As big as this development appeared to be, the heart of the rivalry would be when MJF, in a rare moment of vulnerability—however fleeting or unsettling—addressed how he grew up severely bullied at school, and around that time, really looked up to unafraid, tell-it-like-it-is CM Punk as a hero. And so his hostility towards Punk stems from his once childhood hero looking down on his handshake offer when they first crossed paths on Dynamite, as well as the timing of Punk's decision to leave pro wrestling during a turbulent time in MJF's childhood when MJF "needed him most."
Unlike in most of his matches, MJF wouldn't come to the ring in this match with his personal bodyguard Wardlow, who MJF had been testing and harassing to a greater extent in the weeks prior to this high-pressure match. And unlike in most of his matches since returning, Punk decided to bring out the Punk of old, from his ROH-throwback entrance to his calculated viciousness in the ring. After one of the bloodiest, most cathartic matches to take place for either party, MJF would signal for Wardlow to come down and hand him his signature diamond ring; but, in a moment years in the making, Wardlow decided to cut ties with MJF and hand the ring to Punk instead, allowing Punk to vanquish his stan.
AEW Double or Nothing
Hardys v Young Bucks
On a night when CM Punk became only the fifth man to ever hold the AEW World Championship by defeating "Hangman" Adam Page, three multi-man tag matches stood out and stole Double or Nothing. The first of which was the generational dream match between the most popular tag team of the 2000s, the Hardys, and the revolutionary tag team of the 2010s, the Young Bucks. In the lead-up to the match, the Hardy brothers referred to the Bucks as merely Hardy cosplayers, which the Jacksons would double down on by wrestling on Rampage two days before the big match, entering to the Hardys' music, old-school attire, and even using their idols' signature moves.
While this match would be billed as a dream match, the wear and tear on Jeff Hardy, who had taken part in a destructive and ill-advised no-DQ match that same month, put a cap on expectations, with the bout having a seemingly logical target and weak point. But the match that took place was as good as one can expect from either camp. The Bucks were the faster, more arrogant team, while the Hardys used their opponents' quickness and high-flying offense against them to land their own trademark hits. Watching the Hardys make their comebacks and take control was the most exciting thing; and when the final Swanton from Jeff happened, it was the most shocking thing.
The Bucks very rarely miss in big matches, and together with one of their biggest inspirations in pro wrestling, all four made pure tag team magic.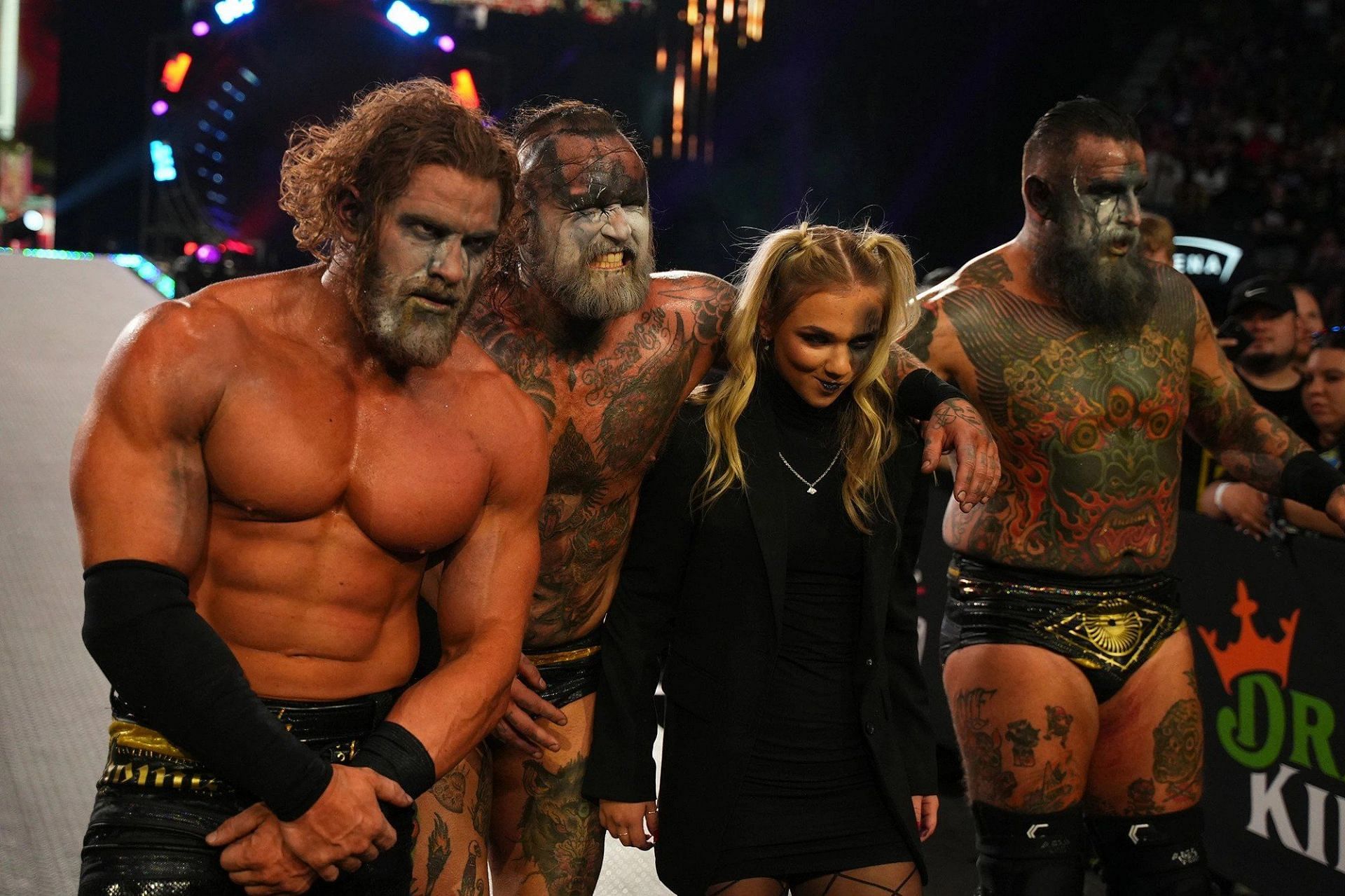 House of Black v Death Triangle
In some ways above and in some ways below the Hardys and Bucks dream match is the much-awaited House of Black v Death Triangle trios match. With Rey Fenix now healed from injury, all pieces of the big crescendo to this rivalry are now in place. Malakai Black and Rey Fenix reaching a stalemate after trying to out-quick and out-kick each other come off a somewhat tender moment. Buddy Matthews and Penta Oscuro's diving meta-game never gets old. Brody King and Pac land the bigger bombs and still ride the match's flow state.
Matches like these can be criticized for going full-speed and having too much going on, but such criticisms (though applicable) don't seem as relevant when all wrestlers involved are in the zone and create a match that is alive and keeps everyone guessing until the final moment. In this case, after months of will-she-won't she, Julia Hart finally comes out of the darkness to spit the corruptive mist into Pac's eyes and joins the House of Black.
But though the House always wins, it would not be the multi-man match of the night.
Jericho Appreciation Society v Eddie Kingston, Santana, Ortiz, Jon Moxley, and Bryan Danielson (Anarchy in the Arena)
Anarchy in the Arena is the most beautiful, ugliest thing I've ever seen. From the first 10 or so minutes of this bloody arena brawl taking place to "Wild Thing" playing on loop. To "Daddy Magic" Matt Menard having a bloody wrestling face to rival CM Punk. To Daniel Garcia somehow being the only participant to come out relatively unscathed. To the mustard. To Jon Moxley's bed of thorns. To Eddie Kingston hobbling out like a zombie with a gas can and blood in his eyes. This match could never be painted. Suffice it to say, it lived up to its name: the most insane match in AEW history.
AEW x NJPW: Forbidden Door
Minoru Suzuki, Chris Jericho, and Sammy Guevara v Eddie Kingston, Wheeler Yuta, and Shota Umino
Forbidden Door was definitely AEW's strongest PPV showing since All Out 2021, and in terms of overall match quality even exceeds it. Most of the matches helped make the event flow as well as it did, but a special few still hold up, including the trios opener pitting Minoru Suzuki, Chris Jericho, and Sammy Guevara against Eddie Kingston, Wheeler Yuta, and Shota Umino.
I still stand by this being the greatest opening match in AEW PPV history.
It was near 20 minutes of exciting action which saw a breakout performance from Umino, glimpses of Kingston v Suzuki and pre-TNT Championship stink Guevara. It was far more dramatic than it had any right to be, and given a general lack of build probably exceeded the expectations of many.
Will Ospreay (c) v Orange Cassidy (IWGP United States Heavyweight Championship)
Some people think the question is, "How long are people going to sleep on OC?", when the question by now should really be, "How long will OC go on winning streaks without getting a big title match on PPV?" (Prior to this, the last title match Orange Cassidy had had came against World Champion Kenny Omega and Pac, in the semi-main event of Double or Nothing 2021.)
Despite losing all his AEW title matches (World and TNT, respectively); and despite the AEW audience being fully aware and fully admiring of the singles ability of one of NJPW's top gaijin stars Will Ospreay, especially in bigger shows; Cassidy still had the world believing those kickouts meant something.
And to some of us, they still do.
Jon Moxley v Hiroshi Tanahashi (Interim AEW World Championship)
With all due respect to the IWGP World Heavyweight Championship (not that there's a lot we owe that particular belt yet), as well as to CM Punk and the injury he went through that led to this match, but Jon Moxley v Hiroshi Tanahashi was really the only acceptable way to close out Forbidden Door given the options.
It's a match that had been building since Moxley's time as IWGP US Champion, between the walking "forbidden doors" of AEW and NJPW respectively, who for years had been working to mend the shaky bridge between the two promotions.
The story was about Moxley staking his claim as the Ace of AEW, and he'd become so by beating The Ace himself. Moxley said all this to Tanahashi's face, who looked the least bit bothered by it, setting the stage for a pure battle of heart and soul. And that battle, that saw almost exclusively signature moves and straightforward escalations from both wrestlers, was beautiful in its simplicity.
AEW All Out
Eddie Kingston v Tomohiro Ishii
For a pre-show match with no build, involving a wrestler who isn't sticking around in AEW, the fact that this stole the entire show at All Out is a testament to the skill of the participants and the fighting style they employ.
Eddie Kingston himself confirmed that this match was dedicated to one of his AJPW heroes Genichiro Tenryu, with the overarching narrative of the match being a clash of styles between AJPW and NJPW. But of course, abstracts aside, the story of the match is that the human forearm, and the human chest, and the human head can only take so much. Fighting spirit is beautiful and so is watching big machines collapse.
The Elite v Adam Page and Dark Order (AEW World Trios Championship)
This was a great title match with solid chemistry from all 6 participants equally, and I have it listed as the among the best things to have come out of All Out 2022. But really, this was more an Elite story than it was an elite story.
Adam Page and The Elite's turbulent friendship helped elevate the tag team division once upon a time, and the Kenny Omega-Adam Page World title feud was put to bed 10 months prior to this trios bout, but it still read like an exhausting argument we have to revisit, and we're sat here asking, 'Do we have to?'
The Bucks have talked to Page. Page has agreed to be civil with them. There's no reason why Page's friends, Dark Order, are looked at as the outsiders in this story about rebuilding friendship, when the outsider is really the returning Kenny Omega, who isn't caught up with everyone just yet.
In a word, it doesn't matter how good the matches are; we can't keep having the same matches with the same emotional stakes when we know those people should have already changed.
Keith Lee and Swerve Strickland (c) v The Acclaimed (AEW World Tag Team Championship)
On a night that featured the great CM Punk in Chicago, and The Elite becoming the inaugural World Trios Champions, the match of the night has to be awarded to Keith Lee and Swerve Strickland v The Acclaimed for the World Tag Team Championship.
From the entrances to the action, chants and songs for Max Caster and Anthony Bowens (accompanied by "Daddy Ass" Billy Gunn) indicated that the Acclaimed had won the entire event. The energy was different, like the Chicago crowd was holding their breath for new tag champions to be crowned, to the point that perennial fan-favorite Lee was heavily booed, along with less than perennial fan-favorite Strickland.
The drama between the ropes was great; The Acclaimed have improved leaps and bounds before our eyes on every AEW show. Outside the ring, a smug new version of Lee and Strickland is an absolutely intriguing prospect. Pro wrestling owes us nothing, but a lifelong rivalry between these two would be nice.
AEW Full Gear
Jungle Boy v Luchasaurus (Steel Cage)
In a word, I thought this was the most charming cage match I've seen. Partly due to something as simple as seeing Jungle Boy wearing his hair tied, which felt like him comfortably embracing Jack Perry for the first time. But mostly because of the shared history between the boy and the dinosaur, and how this felt like a fight between friends.
The little interactions worked so well to make the match feel tight, regardless of actual length. Luchasaurus was monstrously imposing and bloodthirsty in the cage, as opposed to his usual dominant and cold. Jungle Boy was in the fight of his life, but one he knew he could win, knowing all the right moves to take down Luchasaurus, and when to hit them. All this to say between this cage fight, and the singles bout in Canada, they really bring out the best in each other.
And at the end of the day, it's a boy, a dinosaur, and emotional stakes.
What more do you want?
Death Triangle (c) v The Elite (World Trios Championship)
This was the perfect match to encapsulate modern, high-velocity wrestling.
It could be the Young Bucks and the Lucha Brothers, and their deep mutual respect, regardless of the scenario. Their chemistry as rivals and top-tier high-flyers. It could be Kenny Omega and Pac, whose share close to even skillsets in agility and dynamic strength. Whose styles match up so well together and refuse to be seen as inferior to the other.
It could be the atmosphere and the much-awaited return of The Elite. But we knew all these things coming in, and this quality of the performance was still surprising and amazing. This match is pure magic, and I'm just glad it happened.
Toni Storm (c) v Jamie Hayter (Interim* World Women's Championship)
Toni Storm v Jamie Hayter is quickly becoming the best women's rivalry in AEW's short history. This battle at Full Gear was one of the most intensely physical matches the division has produced outside of hardcore matches. And, maybe with hesitation, it was all the better for it.
It's always rough seeing a wrestler bleed from the nose, especially the amount Storm was bleeding — which apparently was warranted. But in the end, Hayter's power (and friends) proved too much control for Storm's bursts of beatdown to offset. One final exposed turnbuckle and a Hayterade to the face finally granted Hayter her first AEW title.
More, please.
Honorable Mentions
Pac v Malakai Black v Miro v Clark Connors (All-Atlantic Championship, Forbidden Door)
Thunder Rosa (c) v Toni Storm (Women's World Championship, Forbidden Door)
Claudio Castagnoli v Zack Sabre Jr (Forbidden Door)
Toni Storm v Jamie Hayter v Britt Baker v Hikaru Shida (Interim* Women's World Championship, All Out)
Eddie Kingston v Jun Akiyama (Full Gear Zero Hour)
*Interim status retroactively removed.
The author's PPV Match of the Year 2022:
Jericho Appreciation Society v Jon Moxley, Bryan Danielson, Eddie Kingston, Santana, and Ortiz (Anarchy in the Arena, Double or Nothing)