Best AEW PPV Matches of 2022 (So Far)
Best AEW Matches of 2022 (PPV Edition)
Ever since full-capacity crowds returned, AEW has produced multiple home runs with their pay-per-view events. And thanks to the much talked about and generally well-received matches, AEW seems to have found its groove with its big quarterly events. But with Dynamite and Rampage, in turn, producing absolutely terrific television matches on the regular, how do the best of the pay-per-views fair so far? Here's a look into the promotion's best PPV matches of 2022 (so far).
AEW Revolution
House of Black v Penta Oscuro, Pac, and Erick Redbeard
A night of great undercard rivalries began at the Revolution Buy-In with a great trios match between House of Black and Penta Oscuro, Pac, and Erick Redbeard. Stepping into the Rey Fenix's spot—who had suffered a nasty arm injury 2 months prior—is the giant Erick Redbeard, whose presence in the match alters the dynamic in both speed-reliant teams.
Initial one-on-one pairings saw Malakai Black exchanging kicks with Pac from the opening bell; Buddy Matthews and Penta Oscuro trying to read each others' next dive, and the two big men Brody King and Redbeard attempt to knock each other down. As the match continues on and moves come flying in from different permutations of the two teams, the energy and athleticism of all men involved becomes something to marvel at. In the end, House of Black would surround Redbeard and hit him with a trifecta of death — a spinning heel kick, black mist, and Gonzo Bomb to get the win in one of the strongest buy-in matches to date.
Chris Jericho v Eddie Kingston
Chris Jericho's beef with Eddie Kingston leading up to Revolution was an interesting one. In so many words, Jericho wanted to motivate Kingston by telling him that what he thinks of Kingston is deep down what Kingston also thinks of himself—that he can't win big matches because he's terrified of success. It's interesting, because, though Kingston doesn't seem to deny it, he also makes it clear he doesn't care about Jericho that much. Kingston isn't here for lengthy, talky sports-entertainment segments; he is here to release aggression by fighting; but before that match is confirmed to happen, he tries to motivate Jericho back: "Let me get the Chris Jericho that got the respect from one of my heroes, Tenryu[…] 'Cause if you don't, I'm gonna eat you alive."
And the match that we got at Revolution would be the best singles match either has had in their AEW career thus far. Kingston's AJPW influence was strong in this match, delivering high-angle suplexes and blistering, rapid-fire chops to Jericho, who fought Kingston off quickly and showed no backdown in brawling with him. The little pep talk segment must've done something because the Jericho and Kingston that showed up here were singularly focused on putting on a wrestling classic that drew inspiration from their heroes. And though their personalities wouldn't produce the smoothest chemistry on promos, this show-stealing opening bout showed that, at this stage of their careers, these men bring out the best in each other.
MJF v CM Punk (Dog Collar)
Perhaps no other match in the entire event would be more highly-anticipated than the Dog Collar match between MJF and, the man with the best bloody face in wrestling today, CM Punk.
Leading into Revolution, MJF had already picked up a win (in fact, 2 falls in the same match) against Punk on Dynamite in no less than Punk's hometown of Chicago. As big as this development appeared to be, the heart of the rivalry would be when MJF, in a rare moment of vulnerability—however fleeting or unsettling—addressed how he grew up severely bullied at school, and around that time, really looked up to unafraid, tell-it-like-it-is CM Punk as a hero. And so his hostility towards Punk stems from his once childhood hero looking down on his handshake offer when they first crossed paths on Dynamite, as well as the timing of Punk's decision to leave pro wrestling during a turbulent time in MJF's childhood when MJF "needed him most."
Unlike in most of his matches, MJF wouldn't come to the ring in this match with his personal bodyguard Wardlow, who MJF had been testing and harassing to a greater extent in the weeks prior to this high-pressure match. And unlike in most of his matches since returning, Punk decided to bring out the Punk of old, from his ROH-throwback entrance to his calculated viciousness in the ring. After one of the bloodiest, most cathartic matches to take place for either party, MJF would signal for Wardlow to come down and hand him his signature diamond ring; but, in a moment years in the making, Wardlow decided to cut ties with MJF and hand the ring to Punk instead, allowing Punk to vanquish his stan.
Double or Nothing
Hardys v Young Bucks
On a night when CM Punk became only the fifth man to ever hold the AEW World Championship by defeating "Hangman" Adam Page, three multi-man tag matches stood out and stole Double or Nothing.
The first of which was the generational dream match between the most popular tag team of the 2000s, the Hardys, and the revolutionary tag team of the 2010s, the Young Bucks. In the lead-up to the match, the Hardy brothers referred to the Bucks as merely Hardy cosplayers, which the Jacksons would double down on by wrestling on Rampage two days before the big match, entering to the Hardys' music, old-school attire, and even using their idols' signature moves.
While this match would be billed as a dream match, the wear and tear on Jeff Hardy, who had taken part in a destructive and ill-advised no-DQ match that same month, put a cap on expectations, with the bout having a seemingly logical target and weak point. But the match that took place was as good as one can expect from either camp. The Bucks were the faster, more arrogant team, while the Hardys used their opponents' quickness and high-flying offense against them to land their own trademark hits. Watching the Hardys make their comebacks and take control was the most exciting thing; and when the final Swanton from Jeff happened, it was the most shocking thing. The Bucks very rarely miss in big matches, and together with one of their biggest inspirations in pro wrestling, the Hardys, they all made pure tag team magic.
House of Black v Death Triangle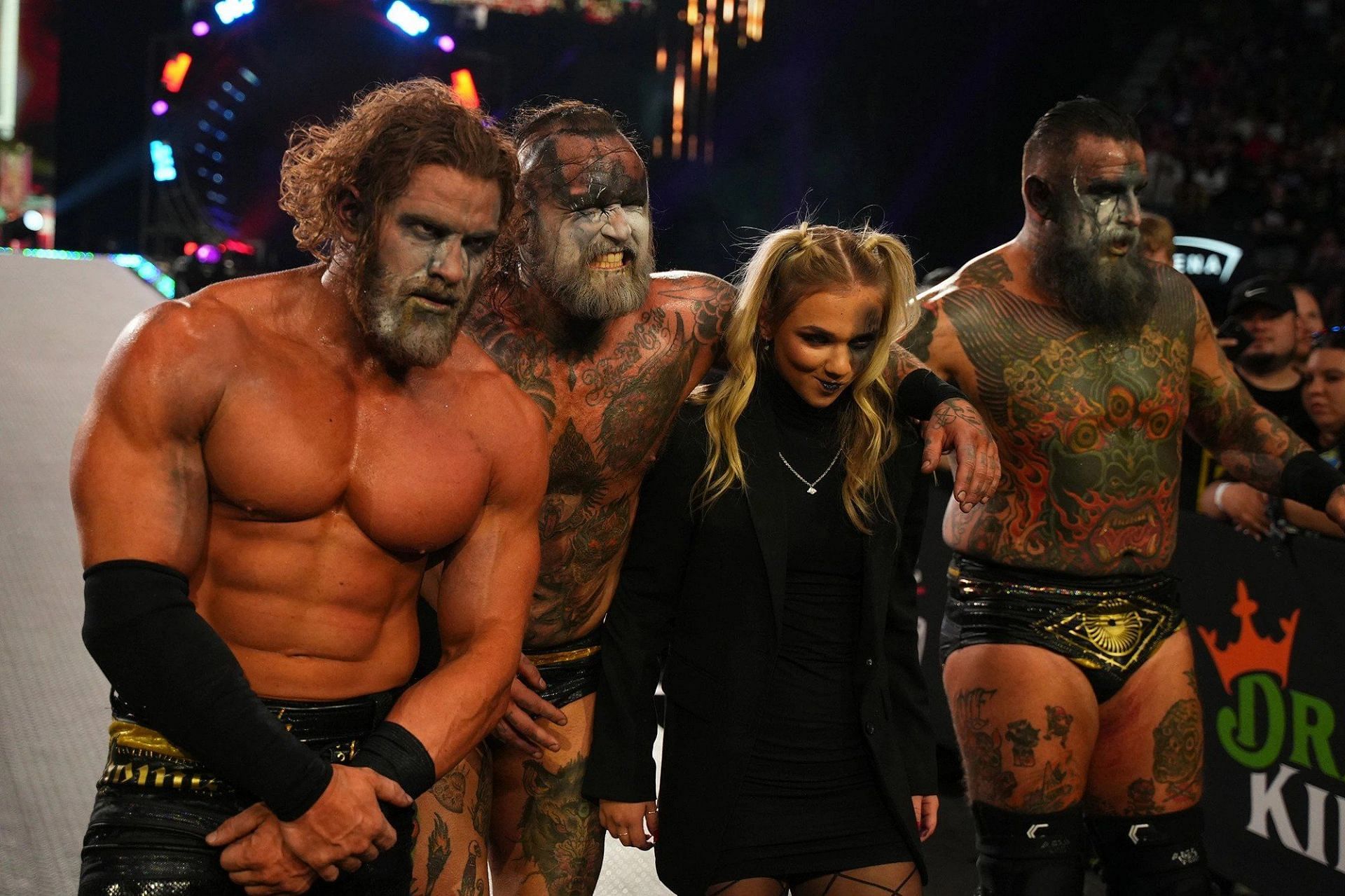 In some ways above and in some ways below the Hardys v Young Bucks dream match is the much-awaited House of Black v Death Triangle trios match. With Rey Fenix now healed from injury, all pieces of the big crescendo to this rivalry are now in place. Malakai Black and Rey Fenix reaching a stalemate after trying to out-quick and out-kick each other comes off a somewhat tender moment; Buddy Matthews and Penta Oscuro's diving meta-game never gets old; and now the two biggest men in the match, Brody King and Pac, land the bigger bombs and still ride the match's flow state.
Matches like these can be criticized for going full-speed and having too much going on, but such criticisms (though applicable) don't seem as relevant when all wrestlers involved are in the zone and create a match that knows when to ascend and descend, and keep everyone guessing until the final moment when, after months of will-she-or-won't she, Julia Hart finally comes out of the darkness to spit the corruptive mist (that she was blinded with in December 2021) into Pac's eyes and joins the House of Black. But though the House always wins, it would not be the multi-man match of the night.
Jericho Appreciation Society v Eddie Kingston, Santana, Ortiz, Jon Moxley, and Bryan Danielson (Anarchy in the Arena)
Anarchy in the Arena is the most beautiful, ugliest thing I've ever seen. From the first 10 or so minutes of this bloody arena brawl taking place to "Wild Thing" playing on loop. To "Daddy Magic" Matt Menard having a bloody wrestling face to rival CM Punk. To Daniel Garcia somehow being the only participant to come out relatively unscathed. To the mustard. To Jon Moxley's bed of thorns. To Eddie Kingston hobbling out like a zombie with a gas can and blood in his eyes. This match could never be painted. Suffice it to say, it lived up to its name: the most insane match in AEW history.