Twin Peaks: Teenagers Pushed Between Light and Dark
Going back after 30 years to enjoy the groundbreaking and crazily surreal TV show Twin Peaks, it's clear that a crucial part of its stellar ensemble cast is its teenagers. This discussion is hyper-focused on the Twin Peaks teens–for a more in-depth take of Twin Peaks, episode by episode, be sure to check out Goomba Stomp's The Lodgers podcast.
Twin Peaks amplifies the key struggle of being a teenager, in a way only it could accomplish. Being a teenager, particularly around age 17-18, is already a precarious time, placing a person on the edge between childhood and adulthood. In Twin Peaks, this is taken up a notch (or several), as the world of adults is defined by its gritty underbelly of drugs, abuse, financial backstabbing, and prostitution.
Recklessness, naivete, self-righteousness; these hallmarks of the teenage condition pull the show's teens into the darkest corners of the show's universe. Some characters find this out as they search for the answers behind classmate and friend Laura Palmer's death. Others, trying to move on, still find themselves sucked into terrifying circumstances.
If teens live on the edge between childhood and adulthood, it's only natural that Twin Peaks plays on this, weaving it into the dark drama of its story as a whole.
Donna Hayward, James Hurley and Maddy Ferguson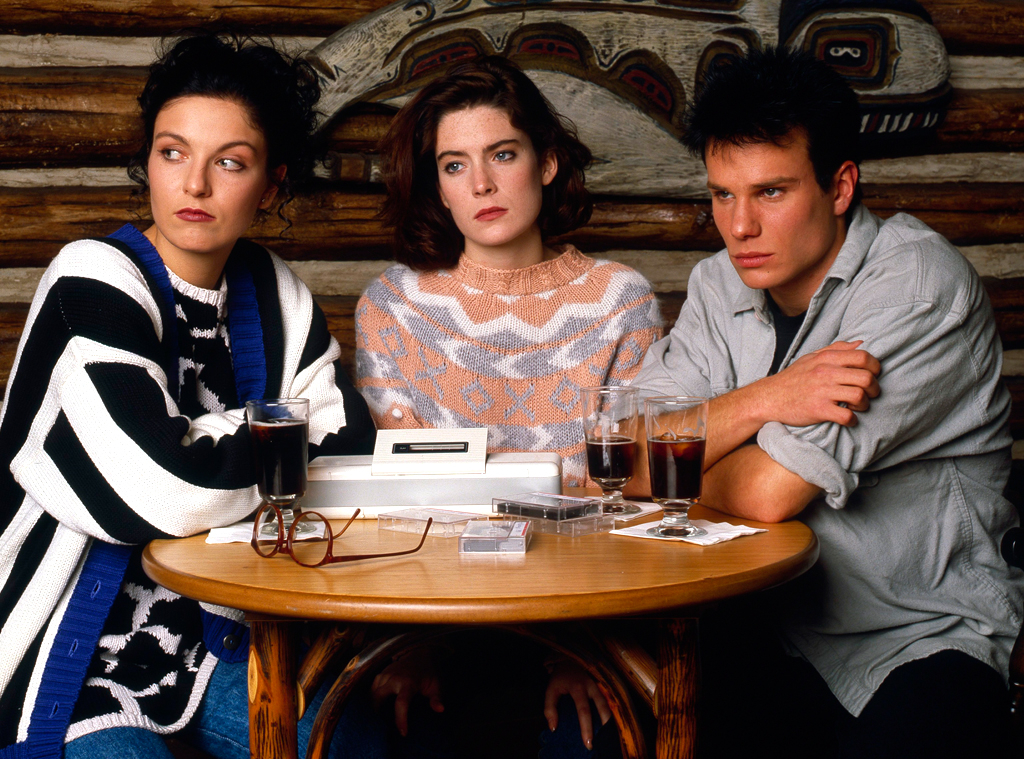 From the moment of Laura Palmer's death, best friend Donna Hayward and secret boyfriend James Hurley dive head-first into finding out the identity of Laura's killer. While the two were the closest to her before her death, it's soon revealed how little they really knew about the darker side of Laura's life. James has seen Laura doing drugs first-hand, and gained hints about Laura's other life through her cryptic, drug-fueled ramblings. Donna, Laura's "best friend," claims early on that she knew Laura better than Laura suspected she did, but ironically knows the least about Laura's other life.
The two of them dive into their own investigation of Laura's death, determined that it's not only for Laura's sake but for their own sense of closure. Soon after the show's pilot, they enlist the help of Laura's cousin Maddy Ferguson and engage in a Scooby-Doo like investigation, punctuated by many innocent, naïve, teen-like moments, such as Donna sneaking out of the house at night and eavesdropping on her parents at home hiding on the staircase. They scratch the surface of the behind-the darkness of Twin Peaks, but their recklessness comes with many unforeseen consequences, such as Jacoby's assault and aggravating (meals on wheels guy) emotional decomposition and eventual suicide.
Throughout the show, the group is repeatedly warned by adults (particularly Agent Cooper and Sherriff Truman) to stop acting on their own. However, they continue their investigation in secret, with a defiant distrust in their elders' ability to solve the mystery of Laura Palmer's death.
Their investigation efforts are clearly marked as childish endeavors, and they often hit roadblocks that keep the truth of the adult world of Twin Peaks just out of their grasp. Meanwhile, their contemporaries' own storylines come much closer to the darkest parts of Twin Peaks.
Audrey Horne
Spurred on by a schoolgirl crush on Agent Cooper, Audrey starts her own investigation into Laura's death. She sees herself as proving herself to Cooper as competent and gutsy, fantasizing about winning his recognition. Soon, she finds out how close she's been to the sinister parts of Twin Peaks the whole time—namely, through her father, Benjamin Horne. She's able to manipulate her way through her investigation–she pretends to be interested in the family business so her father gets her a job at Horne's department store, manipulates Emory Battis to assign her to the perfume counter, and tricks a co-worker to gain access to One-Eyed Jacks. However, at the moment she uncovers a great truth about Laura's death, she's gotten herself in over her head.
For all her quick thinking, the show also shows Audrey's more childish, tactless side—at One Eyed Jacks, she gives the fake name "Hester Prynne," leading to the madame, "Blacky" quickly retorting, "I read the Scarlet Letter in high school too, sweetheart" (exact quote?), and gets herself into more peril when she goes too far with her defiant sarcasm with Blacky ("what is your type, exactly?" "well, not you—no offense", she's then restrained by a bouncer, and Blacky makes the point that, "when you work for me, everyone is your type"—bringing the grim, but the obvious reality of prostitution to the forefront, showing how naïve Audrey was when getting into this situation.
Audrey gets far with her own cunning and willpower, but it lands her into the seedy underbelly of the Twin Peaks universe. Fortunately, she's rescued by Agent Cooper and Sheriff Truman, but takes with her a broader understanding of how dark and terrifying the adult world can be.
Bobby Briggs
At Laura Palmer's funeral, Bobby Briggs bitterly criticizes the assembled crowd, exclaiming that, "we all knew [Laura] was in trouble, but none of us did anything about it." Bobby's frustration reflects his own position as being on the precipice of the dark side of Twin Peaks via Laura, as well as his resentment at the adults who similarly "knew" about the dark, sinister things behind the scenes, but refused to act.
We learn more about Bobby's struggles in his conversation with Dr. Jacoby, as he reveals that Laura pressured him to sell drugs at their school, and how she pressured him to do things he wasn't comfortable with, and mocked him for this.
Of all the teens in Twin Peaks, Bobby is closest to the dark side of the Twin Peaks universe, even before the start of the show. He's already dealing drugs for Leo Johnson and is struggling to dig himself out of this mess. He sees how harsh and dangerous it is to be involved with mercurial Leo Johnson.
Despite this, however, he continues to act out in his own reckless, naïve way characteristic of the teens in the show. In his case, this means continuing an affair with Shelly Johnson. His recklessness abounds, as he knows Shelly is married to Leo Johnson, one of the more volatile, shadiest characters of the show. His desire for Shelly continues to grow, and he ends up taking on heavy responsibilities beyond his years. The show reminds viewers of his place between childhood and adulthood through arguments between the two. When they're both under pressure to manage Shelly's finances and an incapacitated Leo, Bobby tries more than once to shy away from the situation using excuses such as baseball practice, missing high school classes, and reveals he's been lying to his parents about his whereabouts. Through much of the show, Bobby digs himself deeper into the responsibilities of adulthood he is unprepared for and struggles to improvise his way to find solutions to his problems.
Twin Peaks takes the hallmark conventions of being a teenager and amplifies its characteristic naivete and recklessness in a way only Twin Peaks can. They see much of the "adult" world for the first time, flirting with its danger and darkness. Just as Laura Palmer led a double life, living on both the surface, quaint side of Twin Peaks as well as its dark side, the other teens are pushed to the same edge, leading to a loss of innocence only possible in the dark, complex universe within Twin Peaks.