'Another Round' is a Drunken Mess, but in a Good Way
Pour yourself a beer. Or two.
London Film Festival 2020
Alcohol is so completely embedded within European culture that it becomes hard to describe the habits of any of its countries without mentioning it. The French take two-hour lunch breaks with plenty of wine. The Germans sell beer almost anywhere and used to mandate it for workers in factories. Czech waiters almost immediately ask if you want a beer when you walk into a restaurant. And, in the UK, you can take any almost noun, add "-erred" or "-ed" after it, and it becomes a phrase for being drunk.
Denmark is no exception. There is no age requirement for having a swig, drinking is legal on the streets, and 7-Eleven's in Copenhagen are open 24/7. Another Round launches us straight into the country's love of alcohol by depicting the famous German-inspired Kastenlauf. Teenagers race around a lake with crates of beer; the first team to finish all the alcohol in their crate and make it to the end wins.
When the kids handcuff a transportation worker to a pole, one teacher at their school discusses the idea of an alcohol-free campus. Naturally, this concept is almost immediately dismissed. The Danes will never be separated from their beer! It's under this context that Another Round starts, immediately contrasting the joy and youth of these kids against the dour reality of four middle-aged friends, all teachers at the same school.
Our star, Martin (Mads Mikkelsen) teaches history, getting the industrial age and World War II mixed up, talking in such a boring monotone that the students force a meeting to complain about his methods. He has long lost the joy of life, barely talking to his own kids and wife when he comes home. But at a fortieth birthday party, one of the gang mentions the theory of a Norwegian philosopher, who touted the idea that man was born with the wrong alcohol content level. To correct things, he argued, its necessary to drink your way back up.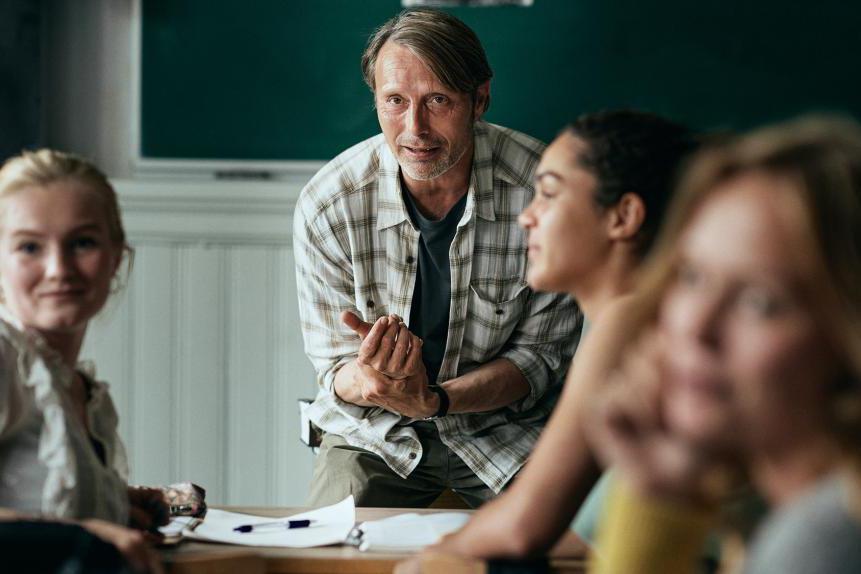 None of the four men teach science or psychology, but who doesn't love a good experiment? They decide to keep their alcohol level over 0.5% and report on their findings. While this could have easily turned into an American-style high-concept comedy, full of puking humour and absurdity, Thomas Vinterberg really looks at how alcohol can make a difference to one's life through a variety of well-crafted situations.
Perhaps being constantly drunk is a good idea? After all, as Martin the historian points out, Winston Churchill was constantly soused, and he managed to win WW2 (never mind the Bengali Famine). Hitler, on the other hand, was a famous teetotaller. Later, a montage of leaders enjoying a tipple — from Boris Johnson to Angela Merkel to Boris Yeltsin — reminds us how alcohol can help build fortitude when leading a nation. But will Martin be more like Churchill, leading his nation to victory, or more like Yeltsin, drinking himself into a stupor while his country falls into a kleptocracy?
The result is a loving, complex interrogation of the Danes relationship with alcohol that never gives into moralizing, but allows us to see how messy both drinking and life, can be. Vinterberg has a great way of mixing joy and melancholy, providing both the highs of a great session and the lows of its consequences. Never giving into a stout morality, but giving a strong overview of both the pros and cons of alcohol consumption, the film comes with years of experience as well as a deep appreciation for the complexity of life. Mikkelsen, as to be expected, is fantastic (as our his co-actors/conspirators, Thomas Bo Larsen, Lars Ranthe, and Magnus Millang). Perhaps an Oscar nod is on the way…
The handheld camerawork, rooted in Danish Dogme tradition, helps to ground the story in realism, as well as using natural light — and capturing it in the frame at the right moment — to highlight a certain grace that can come over you in the midst of a heavy daytime session. Complemented by a few uncanny musical choices — such as The Meters' "Cissy Strut", a must for any pre-drinks — and this film is both a great time at the movies as well as an empathetic, melancholy portrait of how easily one can slip into alcoholism. While many may be put off by Another Round's ambiguous message, I felt that it just reflected the ambiguity and messiness of life — by embracing that messiness, Vinterberg has created a bittersweet and moving work of art. Enjoy with a drink. Or two. Not too much.
Another Round plays as part of the London Film Festival, running from 7 -18 October. Learn more via their website.