'Kill la Kill' Review: A Cut Above the Rest
In the vast expanse of action anime, it can be tough to come out with something special that truly strikes a chord with viewers. Not only is the genre overcrowded, but it's also been gradually progressing over the years in terms of quality and story structure. Despite this, though Kill la Kill is nearly half a decade old, it still serves as a reminder of just how awesome a focused, story-driven anime can be.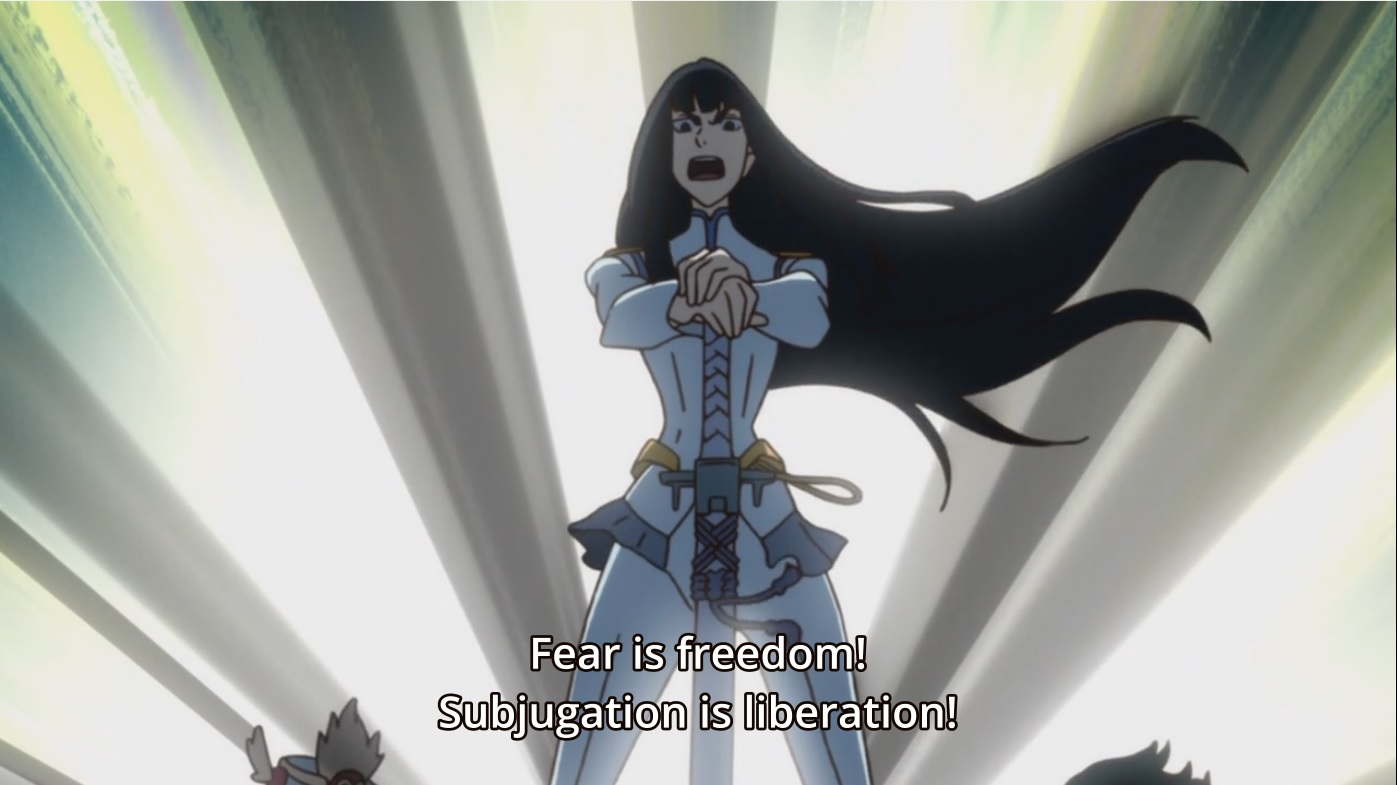 Atmospheric Mastery
The show kicks off as local moody ruffian Ryuko Matoi transfers to Honnouji Academy, a fortress of a school where social standing dictates the quality of life of its inhabitants. She's far different from the typical magical girl; instead of being overly cute and expressive, Ryuko is cold, skeptical, and generally plays the "tough guy" role to a t. We soon learn that she witnessed the death of her estranged father and is determined to avenge him and learn why he was targeted. Once it becomes clear that all-powerful student council president Satsuki Kiryuin might have the answers she's looking for, Ryuko's mission is decided: take on the captains of the school's clubs, defeat Satsuki's student council and force her to reveal what she knows.
As a central backdrop, Honnouji Academy is one of the most distinct, memorable portraits of a setting that I've ever seen in an anime. Not only does it feature Satsuki's iconic central tower from which she literally and figuratively looks down on everyone, but it also serves as the nerve center for all life on the island. Any and all students strong enough to don a goku uniform (school uniforms imbued with Life Fibers that grant the wearer special powers) are treated to a life of luxury close to the academy with their families. Meanwhile, all other students are forced to live in poverty at the base of the island and struggle to survive.
Running Headfirst into Battle
The first arc of Kill la Kill isn't terribly original in its own right, but the show sets itself apart with breakneck pacing and unique (oftentimes ridiculous) focus on the power that clothing can have over people. The amount of ground that Kill la Kill covers in its single 24-episode season is staggering, and a feat that I've only seen pulled off so well in Shingeki no Bahamut: Virgin Soul. Every episode feels like an event, constantly leaving the viewer wanting more while still providing plenty to chew on.
The anime's breakneck pace may arguably even begin to feel a bit too fast towards the end, nimbly swerving around confusing moments by overwhelming the viewer with gorgeously animated fighting sequences. Each of the backstory vignettes for Satsuki's four loyal student council members feels a bit rushed, for instance. A couple of them are easily some of the most interesting characters in the whole cast, but their unwavering loyalty to Satsuki just doesn't feel as substantiated as it needs to be. By contrast, the relationship between Senketsu (a sentient uniform that grants Ryuko powers beyond those of goku uniforms) and Ryuko very naturally transitions from that of a student and teacher to that of tight-knit partners, growing pains and all.
"Nonsensical is Our Thing!"
The ultimate beauty of Kill la Kill is that it never takes itself too seriously. The stakes themselves are always serious, but Trigger consistently maintains an excellent sense of humor to keep things from getting too heavy. Ryuko's best friend Mako does a particularly excellent job of breaking up exceedingly tense moments by disrupting scenes with a genuinely funny running gag. Her fierce loyalty to Ryuko, endearing innocence and natural positivity make her an easy contender for best supporting character of all time. Though she clashes with the "tough guy" persona Ryuko loves to exude, Mako's easygoing nature ends up being exactly what Ryuko needs to find comfort in her roughest moments.
In fact, it's hard not to love the cast here in general. Mako's goofy family provides a comical yet heartwarming shelter from the cutthroat nature of Satsuki's oppressive grasp. Despite being a uniform, Senketsu manages to provide a level of wisdom and understanding that Ryuko wouldn't be able to survive without. The student council ends up feeling truly formidable and uniquely powerful, though the show only takes time to develop two of the four members throughout the season. Even the hyper-sexual undercover agent Aikuro Mikisugi succeeds in being far more hilarious than creepy (quite the feat, given the student-teacher situations he often finds himself in).
Kill la Kill is a fun, dumb, stylish action anime with plenty in the way of jaw-dropping showdowns and laugh-out-loud gags. The core characters are all memorable, particularly Satsuki and Mako. While there's a good bit of fanservice featured quite prominently (including random hints at particularly incestuous relationships), its shameless implementation just became standard after a few episodes. If you're a fan of classic underdog/revenge anime, silly characters, and tons of action, you really can't go wrong here.
You can watch Kill la Kill on Crunchyroll here.