The World According to Jeff Goldblum is a Quirky and Oddly Engrossing Worldview of Modern Culture
Disney Plus launched on November 12th to the general public and with it came ten new pilot episodes for upcoming original shows including Star Wars: The Mandalorian and Pixar In Real Life. Out of all the original television series to debut on opening day, one strikingly stands out from the rest: a quirky National Geographic docuseries featuring Jurassic Park and Thor: Ragnarok actor Jeff Goldblum that was initially going to air on the television channel before switching over to the digital streaming service.
In the mouse's newest selection of shows for their Netflix Competitor, variety can be the key to the foundation of building something successful and The World According to Jeff Goldblum might just hit the sweet spot for what this service needs, but it is still notably something that would never be labeled as a reason to buy into Disney Plus. With that being said, viewing a regular conversation with Jeff Goldblum has never been so engrossing before than in this odd gem of a series.
Goldblum Versus The World
The pilot episode of the series turns Goldblum into a comedic ethnographer who indulges himself in the culture of shoe collectors and creators. Goldblum slowly dives into his worldview of the purpose and significance of the common day footwear, while looking into how the business operates and the passion behind those who proclaim shoes to the highest extent. The pilot episode focuses on a theme of revelation while jumping from different specialists within the culture such as basketball teams, business owners, creators, and even YouTube personalities.
If you are a fan of the actor then you should already except what you are about to watch. Goldblum has his typical quirky and childish mannerisms that make him iconic, while he goes around interacting with a vast selection of people who are widely educated about the subject matter that each half-hour episode focuses on. Despite seeming like a show that can easily become a bore to watch, it never loses steam and becomes an exceptionally well-executed documentary with a flair of humor and spice of knowledge thanks to Goldblum's mesmerizing appearance.
From the perspective of becoming an ethnographer, Goldblum surprisingly does a good job interacting with an audience he typically would never engage with. He never misses a beat as he proceeds to ask serious questions and of course, make humor out of certain situations when appropriate. Never once does he provocatively attempt to embarrass a group of people for mindless entertainment or make fools out of them like other docuseries on specific cultures have.
In fact, Goldblum goes the extra mile to participate in sneaker conventions, recreational basketball games, and even professional science laboratory visits- taking on the tasks that a legitimate ethnographer would have to engage in. All of his crazy yet conventional doings ultimately pays off into what ends up building a captivating show that may even attract audiences who do not care about anything that is being discussed. Goldblum's personality will miraculously keep you hooked on his wild journeys through everyday life as he attempts to explain his stance on common objects while plunging into a perspective of life he has never once stepped into.
Science, Psychology, and Style
This is a National Geographic production though, after all. It is no surprise that this series would be injected with a relentless amount of historical knowledge that is slowly seeping into the core of the show. In the pilot episode, Goldblum combines science, psychology, and of course eccentric style to form a captivating presentation that is quite unlike any other docuseries. For example, in the pilot episode alone Goldblum covers how shoes work, why the category of clothing is so popular among shoe collectors, and the different art styles of footwear found throughout shoe brands.
That being said, for a series revolving around such a simple concept, there is a substantial amount of content to actually talk about and the production value here is unnecessarily high- hitting that Disney expected production value to the point where its astonishingly remarkable how much passion was actually put into this series. From the editing to the cinematography, this is certainly something that was not made without passion. On-screen graphics are always welcomely flashy, lighting is constantly up to pristine quality, and the focus always remains on the title actor.
Goldblum's consistent upbeat pazazz and high energy makes this series not only entertaining and relaxing to watch for his comedic appearance, but for an enjoyable source of overall education- something that most other docuseries tend to struggle with when multitasking multiple genres.
The Pursuit of Happiness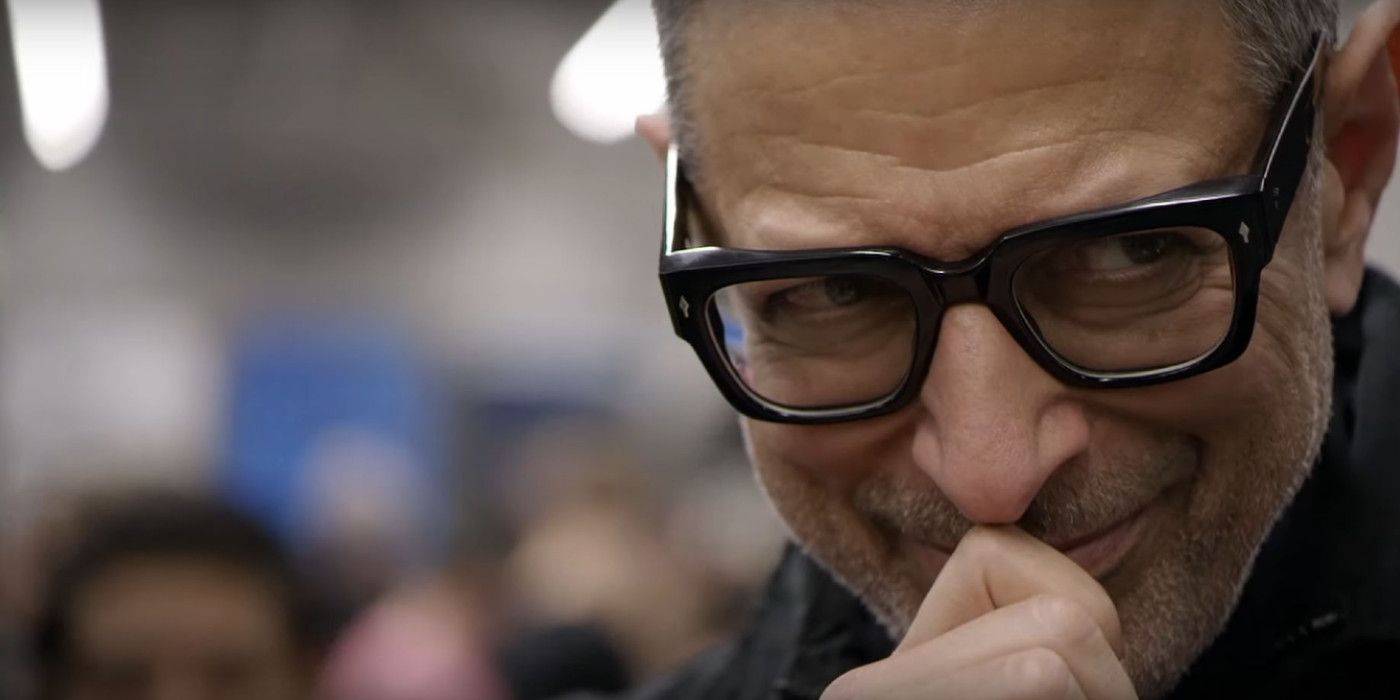 Is The World According to Jeff Goldblum worthy of being called a reason to purchase Disney Plus? Absolutely not. Is it worth watching on an empty afternoon though? Unsurprisingly yes. This is a fun family series that is not only educational regarding subject-matter but educational to learn more about Jeff Goldblum himself. Without the big-name actor though it would be hard to imagine why anyone would ever want to watch this series.
Goldblum's presence allows this series to become a notable piece of content available on the streaming service, however, without him, it would be nothing but another typical documentary series with no real focus. It is entertaining until the very end and is keen on ending off on a positive punchline to keep you coming back next time. Simply put, it is another great addition to Disney Plus's colossal lineup that will seemingly never stop producing high-quality content.