Tenet Lands Not With a Bang but a Whimper
Tenet was meant to bring the cinema roaring back to life. Sadly, Christopher Nolan has run out of ideas.
Christopher Nolan's time-bending, mind-warping, reality-altering Tenet is a completely perplexing spectacle. Neither alive enough to make us forgive its complexity, or ambitious enough to make us truly think, it's a strange and passive outing by Hollywood's most bankrolled auteur.
John David Washington is the protagonist. We know this because his literal name is Protagonist. A CIA agent, he is recruited into a fascinating project to stop the onslaught of WWIII, heralded by the presence of strange machinery from an upcoming event. In a typically talky Nolan moment, Clémence "Exposition" Poésy is on hand to tell us what's going on: overloaded with reverse entropy, bullets can move backwards through time, allowing them to be caught by guns instead of fired. Cool, right? The huge problem is that this also means that large-scale weapons can be sent back in time, potentially wiping out the earth altogether.
Kenneth Branagh plays the big bad Russian villain Andrei Sator who commutes with the future and is on a mission to destroy the world. Hollywood seemingly saw his Russian cosplay in Jack Ryan: Shadow Recruit and thought "Perfect, let's do exactly that again." More insulting to Russian viewers than Branagh's dodgy accent, Tenet opens with a distasteful reference to the Moscow Hostage Crisis of 2002, replete with a mysterious gas knocking out opera-goers. In the world of Hollywood, Russian trauma is still fair game, its villains born in the dark ages of the Soviet Union, still not quite ready to be treated as humans.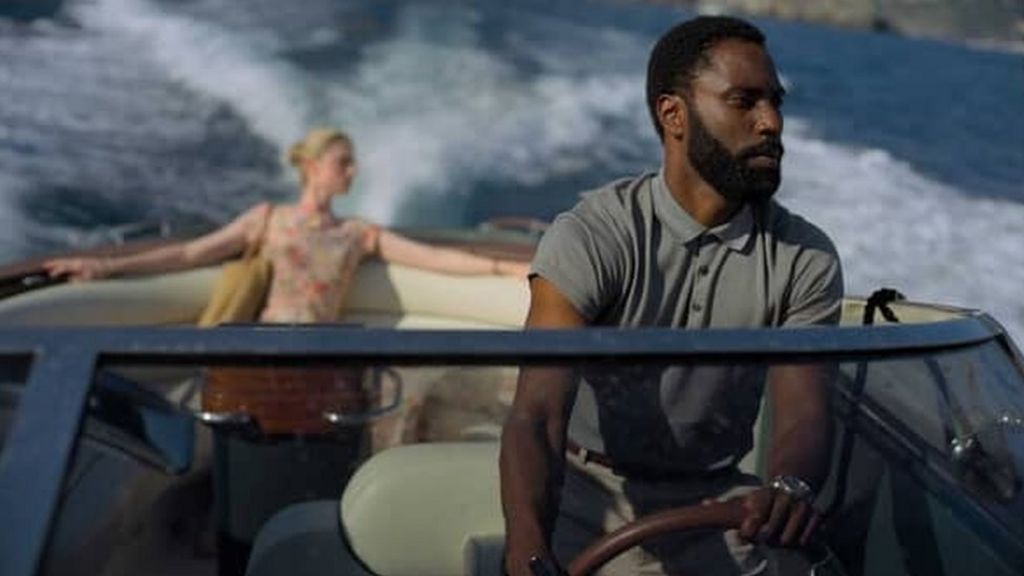 All this imagination and Russians must be one-dimensional manifestations of pure evil! But to be fair, his suffering wife, Elizabeth Debicki doesn't fare much better. She has one trait. She loves her son. We know this because about 10 to 15 times in the movie she says: "I need to save my son." Containing even less character than Marion Cotillard as "dead wife" in Inception, she's a painful reminder that Nolan is pretty shoddy when it comes to writing real women. But she gives Protagonist motivation, I guess, as saving the world is not enough.
Putting in a more interesting shift is Robert Pattinson as Protagonist's co-spy. Containing oodles of traditional British charm, he and Washington play off each other rather well, almost making the film's endless explanations bearable. Both of them act like Bond crossed with Dr. Who, inter-spatial spies manipulating the flow of time to save the world.
Fans of cargo ships, free ports, and shipping containers are going to love this film. Criss-crossing the port towns of Oslo and Tallinn, as well as the gorgeous Amalfi coast and luxurious London (yes, the Russian oligarch lives in the capital of Great Britain!), Tenet is full of neatly rendered set-pieces that make full use of the cinematic form and are cleverly tied to the film's main concept. Nolan is still a master of action cinema, only this time its empty spectacle compared to the gripping conclusions of Inception and The Dark Knight.
The whole film operates at a remove, so obsessed with its own trickery that one cannot really get involved.
Don't get me wrong, a lot of it is cool, if only on a superficial level. We watch the same scenes from different angles, seeing how what happens has already happened, seemingly raising key questions about free will and the reality of our universe. But one keeps waiting (and waiting) for the key moment where we finally sit back and appreciate how Nolan has tied everything together. Yet much like his brother and the tiresome Westworld series, the film burrows further and further into convolution, making us roll our eyes and groan instead of sitting up and being truly involved. One key concept of the film is how ignorance is the key to the mission's success: characters literally have to be in the dark and reveal little about the plot to each other. But for some reason, this applies to the audience themselves, who will still be scratching their heads long after the movie has ended.
While the masters of spy fiction like John Le Carré, Frederick Forsyth, and Ian Fleming use complicated plots to show the clever subterfuge of spy-mastery, for the most part, they do let the reader find a way into the story, allowing them to try and be active participants in the story. Nolan, on the other hand, wants to purposefully confuse us while showing off how smart he is. But if he were really that smart, wouldn't his story actually come together? Palindromes are cool because they start as they end; the same can't be said of Tenet which is palindrome-like but without the true formal commitment demanded by the premise.
Additionally, the vagaries and paradoxes of time travel can be effectively and enigmatically rendered in both arthouse and pop culture fashion — think La Jetée and its punky remake 12 Monkeys — but it has to make sense on either an emotional or entertainment level. Tenet does neither: too complex to be fun while too clichéd to make us care. In fact, the whole film operates at a remove, so obsessed with its own trickery that one cannot really get involved.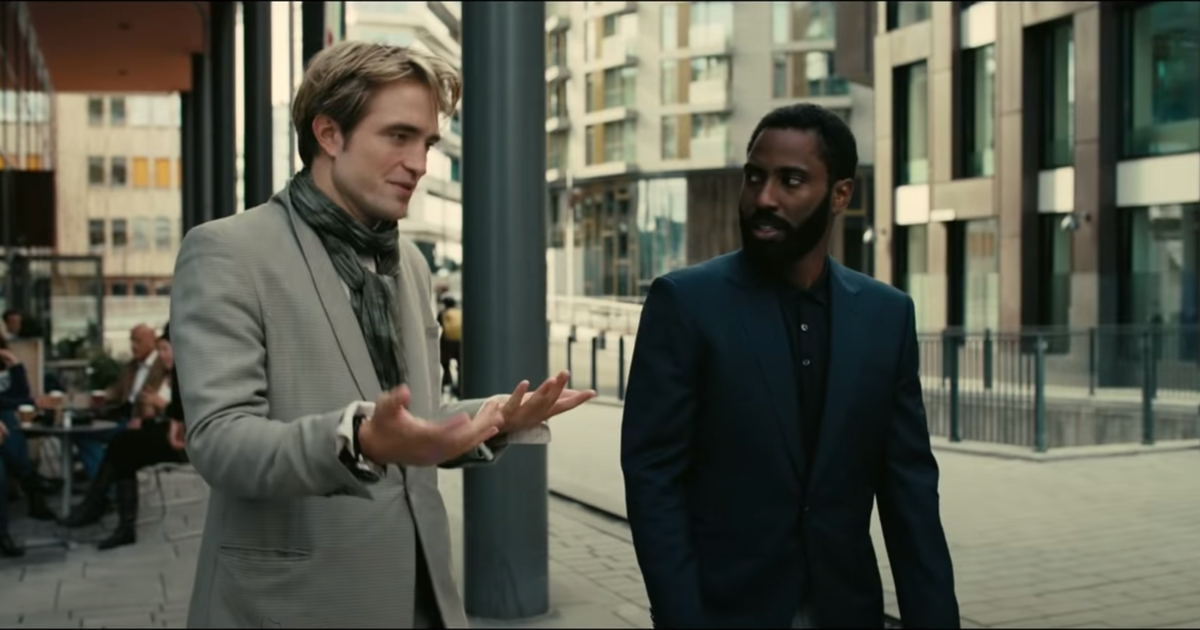 This lack of involvement comes through in the sound mix as well. Characters not only talk with their mouths closed but often reveal key information amidst the buzzing sound of trains rolling, boats crashing against the surf, and cars speeding by, making it hard to render what they are actually saying. Likewise, Ludwig Göransson's score is Zimmer-like in everything but name, full of mechanical sounds, large bwwaahs, and pulsating percussion, giving the impression of grandiosity through audial submission. Try to find a subtitled screening if you can.
One wonders if Nolan needs this to be in cinemas in order to overload the senses, to give one the impression they are in the presence of greatness as opposed to actually watching something great. That's all well and good, but the real legacy of a movie lies in the rewatch. Those cold rainy Monday nights at home. Coach trips on a small screen on the back of the seat in front of you. On the train watching YouTube clips on your phone. Who's gonna send their mate a clip of Clémence Poésy explaining reverse bullets in ten years? Time won't tell.