'Day-Off of Kasumi Arimura' is for Die-Hard Hirokazu Kore-eda Fans Only
While quite the relaxing experience, Day-Off of Kasumi Arimura can't shake off its feeling of slightness.
London Film Festival 2020
A famous Japanese actress playing a lightly fictionalized version of herself has a chance to reconnect with her mother in Day-Off of Kasumi Arimura, a rare showing of Hirokazu Kore-eda's television work in a major international film festival. Fresh off the Palme D'or winning success of Shoplifters, as well as his French-English cross-cultural debut The Truth, it shows the director working in his characteristic style, but brings none of the emotional resonance associated with his best work.
When her TV shot is called off because one of the actors is sick, the star actress makes the most of the opportunity and takes the train to visit her mother (Jun Fubuki) who natters on and makes her famous daughter cringe by showing her off in the supermarket. But behind the smiles and talks about dinner, her mother is hiding a secret that forces Kasumi to reconsider her own identity.
There's one major problem with this conceit. For many people such as myself — who have no idea who Kasumi Arimura is — the main point of this TV show is mostly lost. Shows like this rely on some meta-fictional knowledge of who the actress is to make give its slice-of-life drama an extra edge. Without knowing who she is it's hard to connect on that quick level with why her day off is remotely significant. A Kasumi super-fan might be ecstatic at the sight of her picking vegetables; to non-Japanese people or Japanophiles, it simply won't register at all.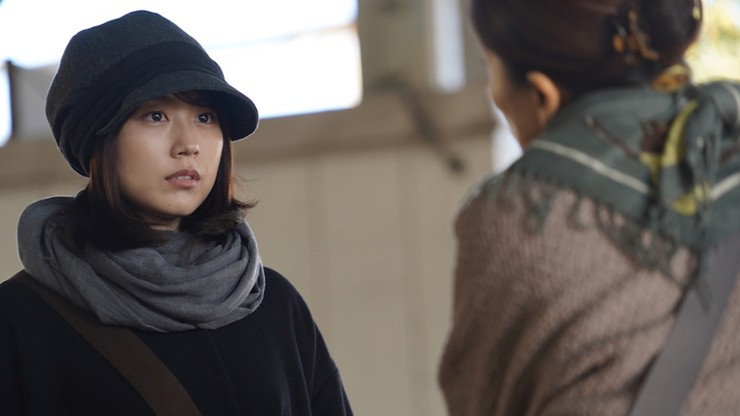 Complemented by soft lo-fi hip-hop beats and light guitar strumming, A Day-Off of Kasumi Arimura is incredibly low-key, even by Kore-eda's own unassuming storytelling standards. While it does show off his penchant for being able to contain revelation within the most banal of settings — with a key secret told off-hand during the boiling of vegetables — and the way big emotions are hidden behind passive-aggressive politeness, there is nothing going on here to shake off the pilot's feeling of slightness.
Despite being the first part of an eight-part TV show, this story is mostly self-contained and can be enjoyed by itself. Whether it will tempt you to learn more about Kasumi Arimura and her journey towards self-discovery in subsequent episodes really depends on how hardcore a Kore-eda fan you are. For the uninitiated, this is a gentle yet ultimately weightless tale. While things may change over the course of the next seven episodes — which aren't playing over the rest of the London Film Festival — there's little to draw one into the story. Outside of Kore-eda and Kasumi die-hards, perhaps it's best worth recommending this to the highly stressed: its slow tempo, filled with scenes of characters walking, talking, cooking and eating, provides the perfect meditative exercise to wind off after a high-tempo day.
Day-Off of Kasumi Arimura plays as part of the London Film Festival, running from 7 -18 October. Learn more via their website.