Anime Ichiban: Brent's Favorite Opening Themes
In Anime Ichiban, we take a look at our writer's totally personal, totally subjective, possibly biased, and possibly stupid opinions regarding anime associated affairs.
While it's the show itself that ultimately leaves a lasting impression, opening themes have the crucial role of getting viewers in the mindspace to be entertained. Whether it's getting you hyped like Dragon Ball Z's "Rock the Dragon" did for millions of western children, or preparing you for the hilarious nonsense that is Bobobo-bo Bo-bobo, opening themes really set the tone for the following half hour of entertainment. These are my top 10 favorites of all-time, and they all belong to shows that I highly recommend checking out. Judge for yourself!
10. "Kibou no Uta"–Ultra Tower (Food Wars!: Shokugeki no Souma, Opening 1)
"Kibou no Uta" is one of my favorite songs on this list. The performance exudes passion and determination as the OP shows Soma (the main character) facing some seriously tough challengers in his rise to being a top chef. His commitment to the craft from childhood helping his father in the kitchen is heartwarming and easily my favorite scene here. And what would Food Wars! be without a little food porn sprinkled throughout for good measure?
9. "Cosmic Love"–Nana Mizuki (Rosario + Vampire, Opening)
You know an OP is great when you never want to miss its first few moments. Rosario + Vampire's opening wastes no time in establishing the show's harem dynamic. The way the main cast of girls is revealed in time with the music is ace, and their interactions with Tsukune afterwards do a great job of getting across the lighthearted humor and playful ecchiness of the series.
8. "Kuusou Mesorogiwi"–Yousei Teikoku (The Future Diary, Opening 1)
Yuno Gasai's reputation as the premier yandere in anime is firmly established. The Future Diary's first OP doesn't do much to set up story, characters or highlight key events (something the second OP goes overboard with), but it instead sets the extremely grim scene for what viewers should expect from the show. Yuno's insanity is on full display here, and it's intoxicating. The last few seconds are subtle but powerful, and become even more meaningful further into the anime.
7. "Bon Appétit?S"–Blend-A (Blend-S, Opening)
Yes, the start of this OP is a meme. But it's actually great overall, I promise! Blend-S is a rather by-the-numbers slice of life anime with a ton of color and personality, and the OP captures this perfectly. Not only is the song catchy and synced brilliantly with the visuals (which I always love), but the visuals themselves are super clean and cute. This Blend-S's OP screams high production values and knowledge of its target audience. As part of that audience, I absolutely adore it.
6. "Deal with the Devil"–Tia (Kakegurui, Opening)
While "Deal with the Devil" is another top-tier OP in terms of production value alone, its confident sense of style really pushes it over the top. Everything is very sexual and symbolic, often referencing specific moments from the show and its themes directly. Identifying these as you make your way through the season is quite fun. And I'd be remiss if I didn't mention just how well Tia captures the true essence of Kakegurui in her performance!
5. "Underground River"–Kevin Penkin ft. Raj Ramayya
(Made in Abyss, Opening 1)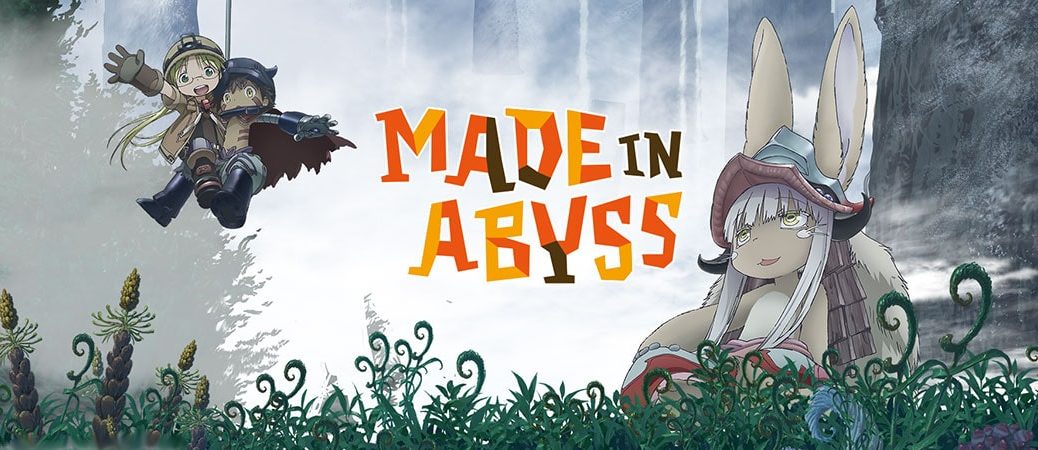 Made in Abyss' second opening is also brilliant, but there's something decidedly cinematic and emotional about Underground River. Though the same length as a typical OP, it plays out much more like the opening credits to a film than the first season of an anime. It's easily my favorite song on this list, encapsulating the somber and questioning tone that defines the series. If you watch this and aren't tempted to watch the rest of the season, I don't know what to tell you.
4. "THE WORLD"–Nightmare (Death Note, Opening 1)
Death Note is the first anime I ever bought on DVD and, even though there were only 4 episodes on that thing, it was worth it for the ability to rewind the OP alone. What's striking about "THE WORLD'" is how much it's able to communicate with so little. The use of basic religious symbolism makes it easy for new viewers to get a general idea of the dynamics at play. And the final image of Light? Chilling.
3. "Hikari E"–The Babystars (One Piece, Opening 3)
One Piece has been my favorite anime ever since I was in middle school. The pure sense of setting out for adventure with friends has always felt magical to me, and "Hikari E" is the theme I've always felt captures that the best. Seeing the gang looking so happy and showing off their skills never fails to make me smile, especially when coupled with groovy tunes like these.
2. "99"–MOB CHOIR (Mob Psycho 100, Opening)
It's hard to watch Mob Psycho 100's OP just once. "99" is so visually delightful in its design and intricately paced with its theme that it just flies by before you know it. What's even more impressive is how natural the constant counting towards 100 throughout the song feels. The transitions, stunning art direction and meticulous attention to detail all come together to make this one of the best OPs I've ever seen.
1. "V.I.P."–SID (Magi: The Labyrinth of Magic, Opening 1)

This is everything I look for in a great OP. Immediate hook at the start (similarly to the start of Rosario + Vampire's OP), a synced and catchy theme, a great sense of adventure with friends (again, something I hold dear), and a couple of standout moments throughout that just feel special (in this case, 1:08). There's a lot to love here. If you haven't seen this little gem of a series yet, give it a watch!
Videos were uploaded courtesy of the /r/AnimeThemes community